I'm now two plus weeks into my inflammation-free diet. I have memorized my list and have gotten pretty good at checking labels and minimizing sugar cravings. I'm at the point where meat and vegetables just won't cut it anymore so I've been trying some new recipes Gluten-Free Cauliflower Fried Rice to mix things up. Chinese and fried rice has always been one of my biggest weaknesses. Before starting on this journey I would eat it about once a week so I wanted to create something that reminded me of classic Chinese without all the bad stuff in it. This Cauliflower fried rice is gluten, dairy and nut free and tastes incredible.
All my ingredients are from Whole Foods but I'm positive you can find at other grocery stores too.
As someone who doesn't love to cook I wanted this to be an easy go-to meal for me which means buying frozen ingredients so I can always have on hand (which also means very little prep time!) This a great meal for adults and kids plus you don't have to be dieting or eliminating foods to enjoy. It tastes amazing and is a much healthier option than take out. My kids love it and they're getting veggies too which is a bonus.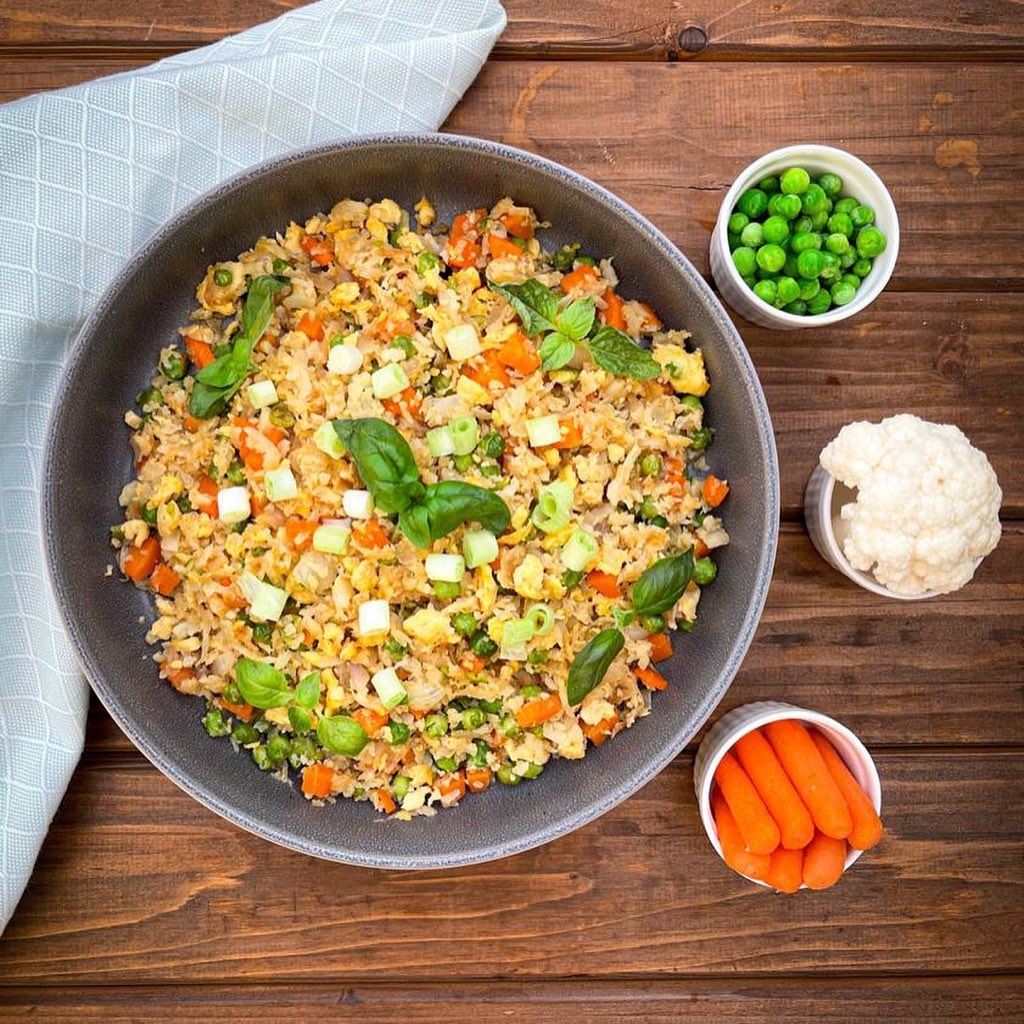 This recipe can also be adapted to your meat preferences (think shrimp, chicken, pork, ground beef) and you can add way more vegetables to your liking as well. I definitely wanted to keep my ingredient list as low as possible since I've had to cut out a lot of things, including garlic, and am trying to eat as clean as possible. You can put your own twist on this recipe or eat as is!
Gluten-Free Cauliflower Fried Rice Receipt
1 bag Frozen Cauliflower Rice
1/2 bag Frozen Peas & Corn
2 Tablespoons Tamari Gluten-Free Soy Sauce
1 Tablespoon Olive Oil *
2 Teaspoons Sesame Seeds
12 ounces Steak Strips or Steak *you'll need to cut into strips after if not already pre-cut*
2 eggs, scrambled
Directions: In a large sauté pan over medium-high heat, add 1 tablespoon of olive oil and brown your steak strips or steak. Cook to your liking, then put in oven on lowest temp to keep warm. Do not rinse pan! Add frozen cauliflower rice, peas & carrots and cook, stirring every minute or so to break up the frozen cauliflower. Add soy sauce and sesame seeds; simmer until soy sauce is almost evaporated. While cauliflower, peas & carrots are simmering, scramble two eggs in separate pan. Add back in cooked steak and eggs, toss together. Serve immediately.
Notes: Any cooking oil can be substituted in for the Olive Oil. You can use Grapeseed Oil, Avocado Oil, Sesame Oil, etc. I make a big batch of this all at once and put in tupperware to save for later. When reheating, be sure to set the power level on your microwave to 5 so that your steak doesn't dry out.
View this post on Instagram