Great Wolf Lodge is one of my favourite family resorts. Having visited 5 different locations in the last few years, I have really fallen for the brand. With all the time we spend in Niagara Falls, I get near daily questions about Great Wolf Lodge Niagara Falls. Here's what you need to know about visiting any Great Wolf Lodge location and some specifics for Great Wolf Lodge Niagara Falls.
1. Where can I find deals for Great Wolf Lodge?
Great Wolf Lodge makes it easy to find deals for each location. Head to https://www.greatwolf.com, select your destination and choose deals. My advice is not to be ready to jump on a deal. Rooms at our local lodge are currently 25% off for the next 30 days.
2. What kind of room do we need at Great Wolf Lodge?
I've seen quite a few rooms at Great Wolf Lodge and can tell you what room you need depends on the size of your family. I personally prefer the Majestic Bear Suites because they come with a large eating area, separate bedrooms, and a large sitting area. They also have large balconies perfect for watching the sunset. Great Wolf Lodge Niagara Falls has stepped up their offerings by renovating some suites into Grand Wolf Suites. These luxury suites include a modern look, spa products, and preferred parking. Not a necessity but a great splurge if you have the budget.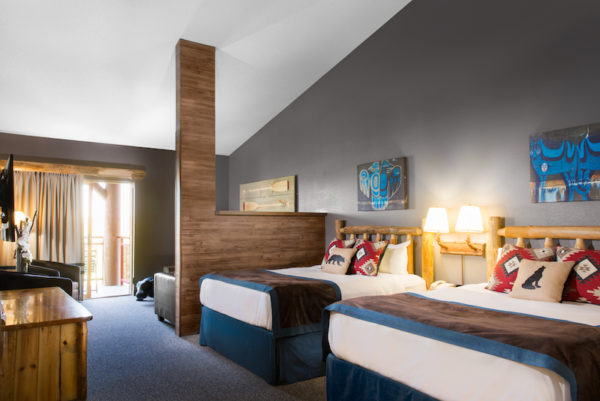 My kids, on the other hand, beg to stay in the Wolf Den Suite. These rooms come equipped with bunk beds and a literal wolf den where you kids can sleep and have their own television. The wolf den is sort of built into the room with no door so don't expect any privacy. There are two sizes of Wolf Den Suites. The larger size comes with a sleeper sofa for families larger than 4.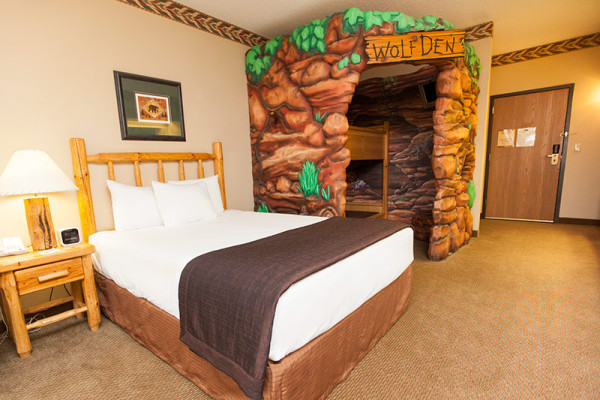 3. Why do I see pictures of kids at Great Wolf Lodge Niagara Falls carrying wands around?
At first pictures of Great Wolf Lodge can be confused with other wizard attractions because you often see kids doing magical things. The reason is that the halls of Great Wolf Lodge are equipped with the MagiQuest game. Kids can purchase wands at the store in Great Wolf Lodge and then embark on magical quests through the hotel.
Is it necessary to do? No. Is it a lot of fun? Yes. From my experience kids, 4 and up are old enough to really get into the game. I watched kids up to about age 15 participating in MagiQuest and they were also pretty into it.
You can buy just a wand, buy an entire MagiQuest Package or get a wand with the Great Wolf Lodge Niagara Falls Paw Pass which I will discuss next.
4. What is a Paw Pass and do we need them?
Each Great Wolf Lodge locations offers their own version of the Paw Pass. A Paw Pass is sort of like a tasting menu of activities at Great Wolf Lodge. Recently, Great Wolf Lodge Niagara Falls made the smart decision to divide their Paw Pass into two categories: A Paw Pass and a Pup Pass. Essentially, the passes are now better suited to two different age categories.
Here's a look at the Paw Pass and Pup Passes offered at Great Wolf Lodge Niagara Falls.
Paw Pass costs 74.99$ saving you 53% off the retail price of $161. The Paw Pass includes the following:
20 Paw Points for Northern Lights Arcade
Two games of bowling at Ten Paw Alley
One 5×7 Paw Prints water park action photo or one game at Wacky Wilderness Mini Golf
One MagiQuest game
One MagiQuest classic wand or classic topper
One pair of wolf ears from the Trading Post Gift Shop
One gift at Scooops Kid Spa
One colour-your-own t-shirt or pillowcase in Cub Club
Wiley the Wolf sipper cup from Northwoods Pizza Company
Poutine and Fountain Drink from Buckets Incredible Craveables
1/4 lb. of fudge from Bear Claw Cafe
Exclusive collectible Great Wolf Lodge towel
I bought the Paw Pass knowing that my kids would want to do at least half of the above activities. Whether you need one depends on whether you just want to enjoy the waterpark or want to try a few more things.  [ age stuff]
4. When is the best time to go?
I prefer Great Wolf Lodge on a Tuesday or Wednesday night but in reality, any day of the week is good. The hotel knows how to handle a crowd so don't be too afraid to go on weekends. If you want a more exclusive experience, go when local kids are still in school. We recently stopped into Great Wolf Lodge Niagara Falls and spoke to plenty of American families who visit every year in June. Canadian kids are not out of school until the end of June so weekday visits tend to be less crowded. On the flip side, Canadian kids start school later than their American counterparts, so we prefer to visit American locations once American kids have gone back to school.
5. Is Great Wolf Lodge worth the cost?
In my opinion yes. Each and every location we have visited has been worth the cost. I love that each Great Wolf Lodge has its own take on the brand and most have something unique to them. We've found different slides, cool add-ons like indoor rope courses and local touches on each menu.
As for our "home resort" Great Wolf Lodge, it is far and above worth the cost. You will find other water parks in Niagara Falls but there is definitely something unique about Great Wolf Lodge Niagara Falls. The staff is on point and your kids will have a lot of fun. The water park is extremely well managed and I had no concerns at any point even being alone with my two kids. As it ages, Great Wolf Lodge Niagara Falls continues to improve and add new experiences and slides. Most recently, I have been incredibly impressed with the quality of the food and room upgrades.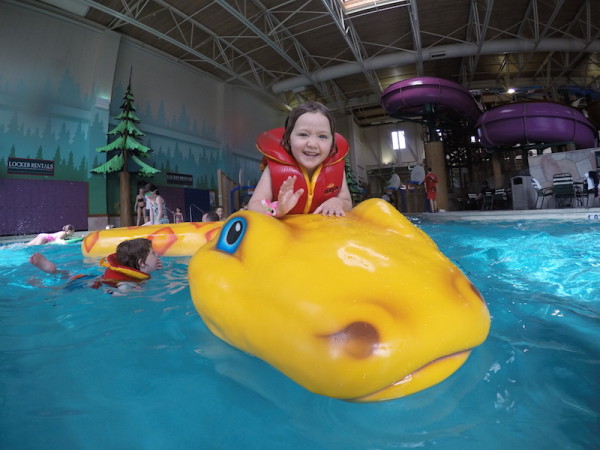 One thing to keep in mind is that you actually get 2 days of play per one night stay at Great Wolf Lodge. You are allowed access to the waterpark from 1:00 pm on the day of check-in and are allowed to stay the entire next day. We checked out of our room on the second day, put our suitcases in the car and just kept a bag of clothes to change into.
6. Do I Need to Worry Food Allergies at Great Wolf Lodge Niagara Falls?
In July 2016, Great Wolf Lodge was awarded the Gold Standard by Allergy Eats. This is an award that previously had only been bestowed on Disney. The reality is that you don't need to worry about food allergies at Great Wolf Lodge at all. My daughter has severe allergies to dairy and soy and Great Wolf Lodge has gone above and beyond to accommodate her. Most recently, the chef at Great Wolf Lodge Niagara Falls prepared her an incredible steak dinner and offered her not one but a choice of 6 deserts to choose from.