Tenerife is the largest island in the archipelago of seven Canary Islands in the Atlantic Ocean, owned by Spain. Also known as the island of eternal spring, which is due to its geographical location at the latitude of the Sahara Desert. The temperature varies between 20-26°C in winter and 23-29°C in summer. And it was a very good choice for our vacation from December 17 to 24.
Our trip started long before boarding. In order to avoid unpleasant surprises and maximize pleasure from the vacation, we booked a flight, a hotel and rented a car in advance.
The main attraction of Tenerife is a volcano called Mount Teide, located in the middle of the island, which also played an important role in forming local sediments. The second main attraction after the volcano are bananas and their plantations at every corner, but they taste the same as everywhere. In general, everything is done to maximize the comfort of tourists and residents of the island.
Flight
We traveled with Vueling Airlines company. The direct flight from the city of Lyon to Tenerife Sud Airport lasted 4 hours. The cost of such a two-way trip with one baggage was 370 Euro. We started saving at this stage already: if you buy tickets without luggage and add it separately after, you can save 90 Euro. It is also worth mentioning that there is a second airport in Tenerife – Tenerife Nord, but arriving there was much more expensive, and we didn't find any advantages for overpaying.
Transport in Tenerife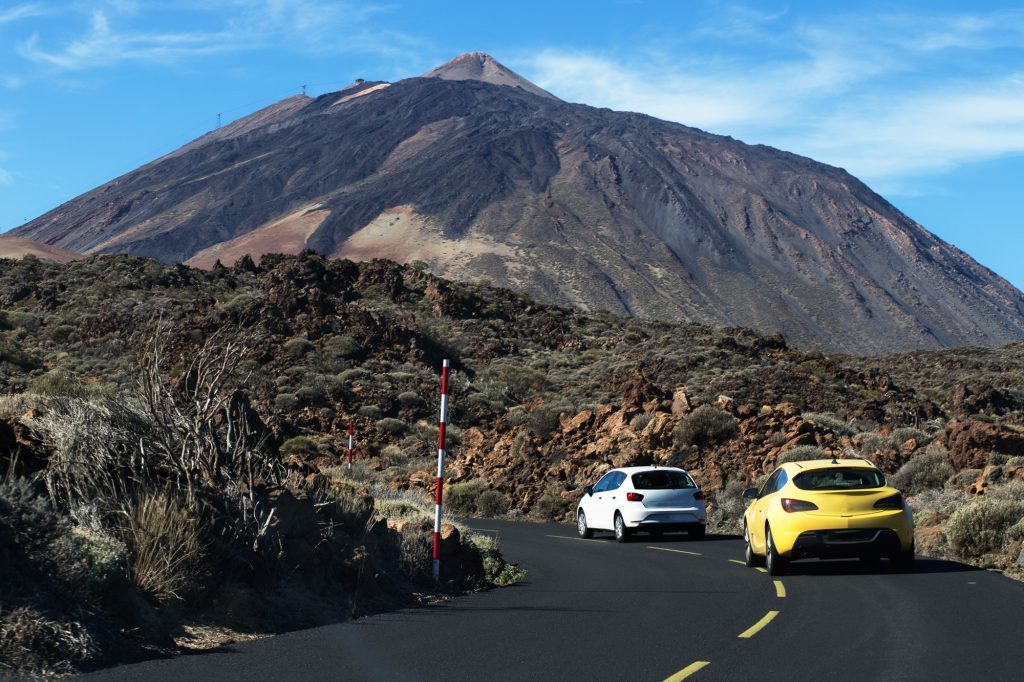 Tenerife island isn't that big but walking by feet around will not let you see a lot; even despite the availability of bus connection between some towns, you will depend on timetable and celestial chancellery. Our plan was to visit not only popular but also remote parts of the island, so having checked out prices of different car rental companies, we set our choice on the Orlando Rent a Car service, the main advantage of which was flexibility of time for returning the car (it was the key point for us as we had a flight back at 7:25 a.m.)
After getting our baggage, we began to search for the office of the car service (the website said one should be available in the airport), which we couldn't find, but the all-knowing information center explained where the transit bus might wait for us. Within 10 minutes, there were about 8 persons with us altogether at the bus stop; the driver checked the passports according to his list and we started our way to the car office. Registration of all documents took about 5-10 minutes and we became happy renters of a practically new blue Peugeot 208 (the colour on the car keys was indicated as gray).
Money: from Sunday to Sunday (5 a.m.), the rental cost was 81 euro + 330 Euro deposit (it is blocked at your account and returned automatically in the end) + 15 Euro for car parking at the airport (since we flew back very early, we left the car without inspection in the airport at the parking lot) + half tank of fuel.
Make sure you fill the car with the right fuel at a gas station, as when getting the car, it was said that it needs diesel, but in fact it turned out to run with ordinary 95 RON petrol.
Advantages of renting a car on the island of Tenerife – the cost of fuel: a full tank of 95 RON petrol costed us 30 Euro, at a price of less than 1 Euro per 1 liter. The total price for 8 days and 7 nights as we did about 700 km by car, constituted 134 Euro. All trips were very comfortable also due to the quality of the road surface, and free parking is a bonus for owners of 4-wheel vehicles. However, a driver should have a good parking skill. Sometimes we could circle round up to half an hour seeking for a vacant parking place, or we had to park in a very intricate way between two cars in a narrow street.
Hotel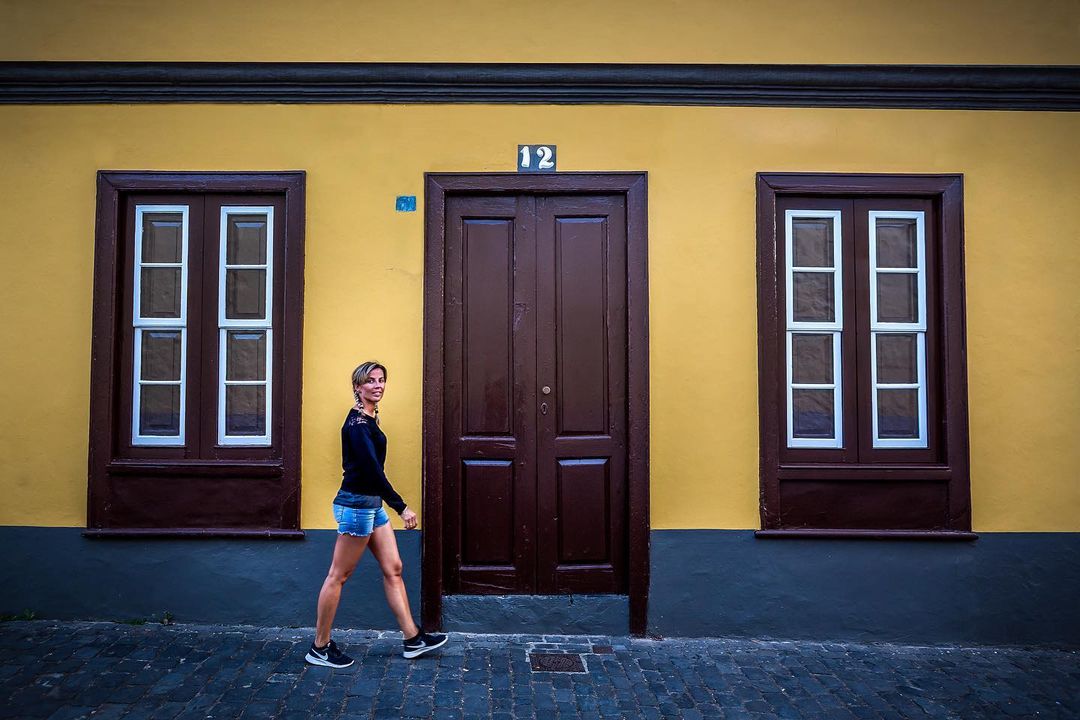 While planning the trip we already knew in advance which places we would like to visit so for convenience of traveling and living we chose a small city in the center of our plan – Puerto De La Cruz. The length of daily trips by car and the concentration of tourists around us largely depended on it. Comparing the prices, convenience and location of hotels/airbnbs, our choice stopped at Puerto Palace ****. Spacious rooms, pool view from our balcony, daily cleaning, a large buffet for breakfast justified our choice. This location costed us 500 Euro for 7 nights, including a daily breakfast.
The first lifehack that helped us very much was a leaktight, sectional lunch box. Despite the ban on taking food away from the restaurant, we successfully managed to collect small snacks every day, which saved a certain amount of money and time during our trip.
Prices for living on the main island of Tenerife start from 25 Euro per day per room, and for those who are traveling with family and agree to cook every day – good solution will be to rent a flat with kitchen.
Food
Most of the Canarian restaurants look like small bars or cafes located near beaches and tourist centers; their variety will please any gourmet, that is actually anticipated from a touristic island. But the working hours of all such places differ from what we got used to: lunch time is usually from 1 to 3 p.m., dinner starts around 9 p.m. and is served up to 11 p.m. However, having a snack from 4 to 6 o'clock p.m. may be a challenge, because quite a lot of restaurants in the towns around the island are closed at this time.
What is worth trying on the Canary Islands? The local cuisine is largely influenced by the culinary traditions of Spain, so paella with chicken and seafood, potato tortilla, a great variety of seafood and exotic fruits are very popular here. The way of serving called "tapas" is wide- spread among Canarian food spots – it includes small portions of main dishes or snacks served altogether and aimed for 1-2 people, so that you could try several dishes at a time. During the week we tried to eat in different bars/restaurants and try new dishes, for our feedback and recommendations we wrote a short separate article.
What to Do on the Tenerife Island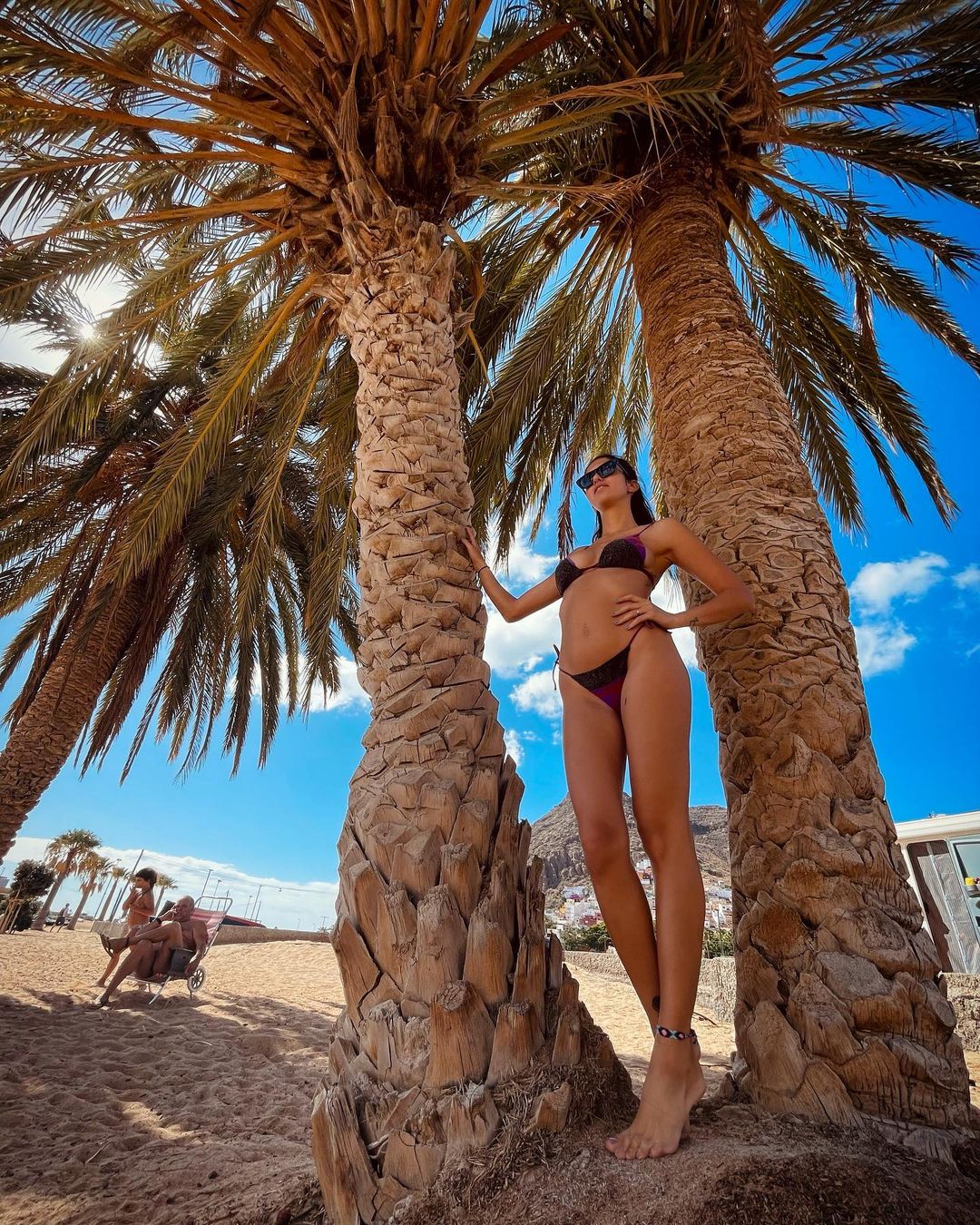 Here you can find a holiday for any taste and income: beach resorts and picturesque rocks, strolls around the cities and sea adventures, museums and amusement parks. Black volcanic sand makes the beaches of Tenerife unusual, but not only they attract tourists. Along the coast you can find natural pools formed by volcanic rocks. They are filled with waves of the ocean during the rising tide, and at low tide visitors and locals can enjoy the sea surface and safe swimming. All the pools are surrounded by lanes and equipped with steps for descending into the water.
Popular leisure and a way to see the island is hiking. The mountain ridges are ornamented with paths of different length and difficulty. They are suitable both for family walks, and for off-road runners, picturesque landscapes will increase the pleasure from strolling. During the vacation we were able to conquer the Masca Tracking route and walk along the ridge of Anaga.
Eternal spring, affordability, a large variety of activities and many other things every year attract more and more tourists to the Canary Islands. We spent a week at Tenerife and every day was filled with new adventures, unusual places and meetings. We will tell about each our adventure in a separate post.