Most of the Canarian restaurants are small bars and cafes located near beaches and touristic centers, and their variety will please any gourmet, that is actually anticipated from a touristic island. But the working hours of all places differ from the common standard: lunch time is usually from 1 to 3 p.m., dinner starts around 9 p.m. and is served until 11 o'clock. However, having a snack from 4 to 6 o'clock p.m. may be a challenge, because quite a lot of Tenerife restaurants are closed at this time.
Tenerife Restaurants: What is worth trying on the Canary Islands?
A great variety of seafood and exotic fruits are popular here. A very special and popular format of serving here is "tapas" – small portions of main dishes or snacks served together and aimed for 1-2 people, so you can try several dishes at a time.
There are also no problems with vegan or vegetarian cuisine, every restauration offers several dishes of different types from snacks to desserts. But anyway, you'd better ask which ingredients are included into the chosen dish.
During the week we tried to have a dinner at different places and towns, try new dishes, so here is a complete list of our culinary knowledge.
Our Short Tenerife Restaurants List (from the Worst down to the Best One):
1. Restaurant Bar Cafeteria Central, Puerto de la Cruz.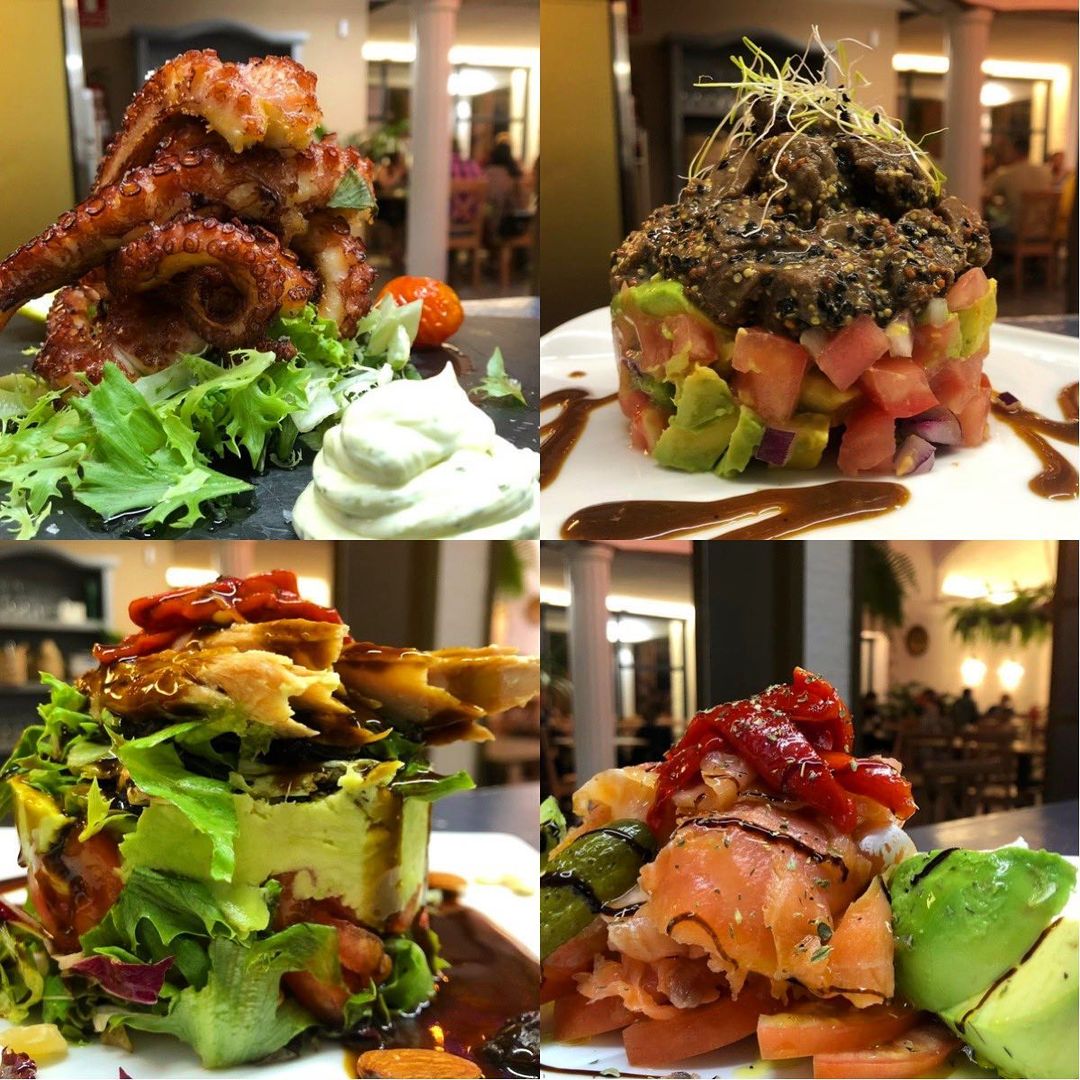 We found a recommendation for this restaurant in the tourist book about the island, but unfortunately our expectations were not justified. Our check was for 30 Euro for paella mix (seafood and meat), tea and a very tasteless half a liter of sangria. Paella was pretty fat, and both of us could not finish it. There were menus in different languages ​​with cheerful translations from Google service, friendly waiters. The rating on Google maps completely corresponds to the reality of 3.7 points.
2. Restaurant Meson Los Gemelos, Puerto de la Cruz.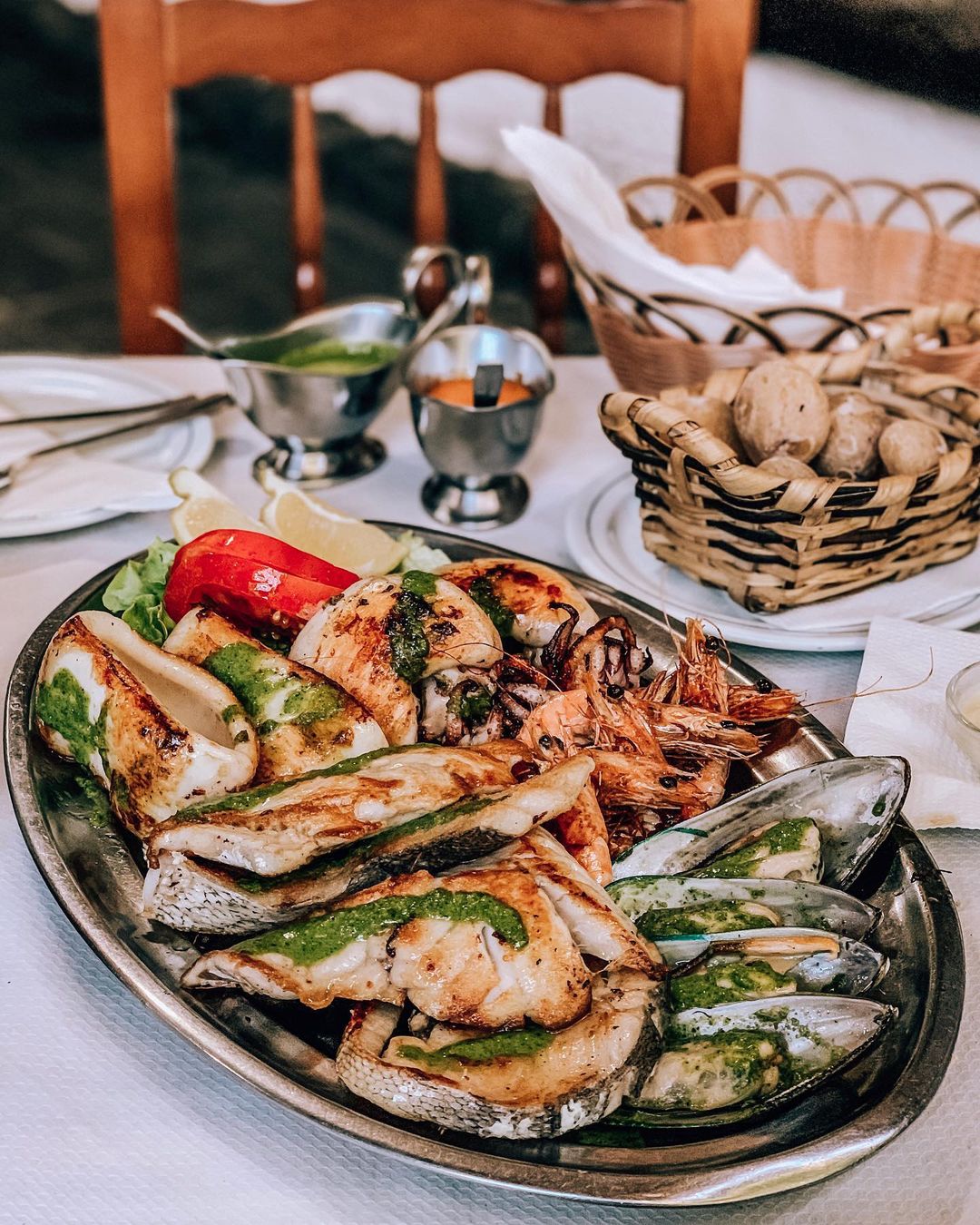 Met us with an unusual interior, tables in the open air and flower pots hanging from the ceiling. The first surprise from the local cuisine was serving of a beef steak under a baked banana. In general, the Tenerife restaurants offers both the main menu with different dishes, and the dishes of the day. Several halls were absolutely full, so the service was rather slow. The check for two for dinner was about 24 Euro (2 main dishes + drinks). Rating on Google maps is 4.4, and we left a strong 4.
3. Restaurant La Andaluza, Puerto de la Cruz.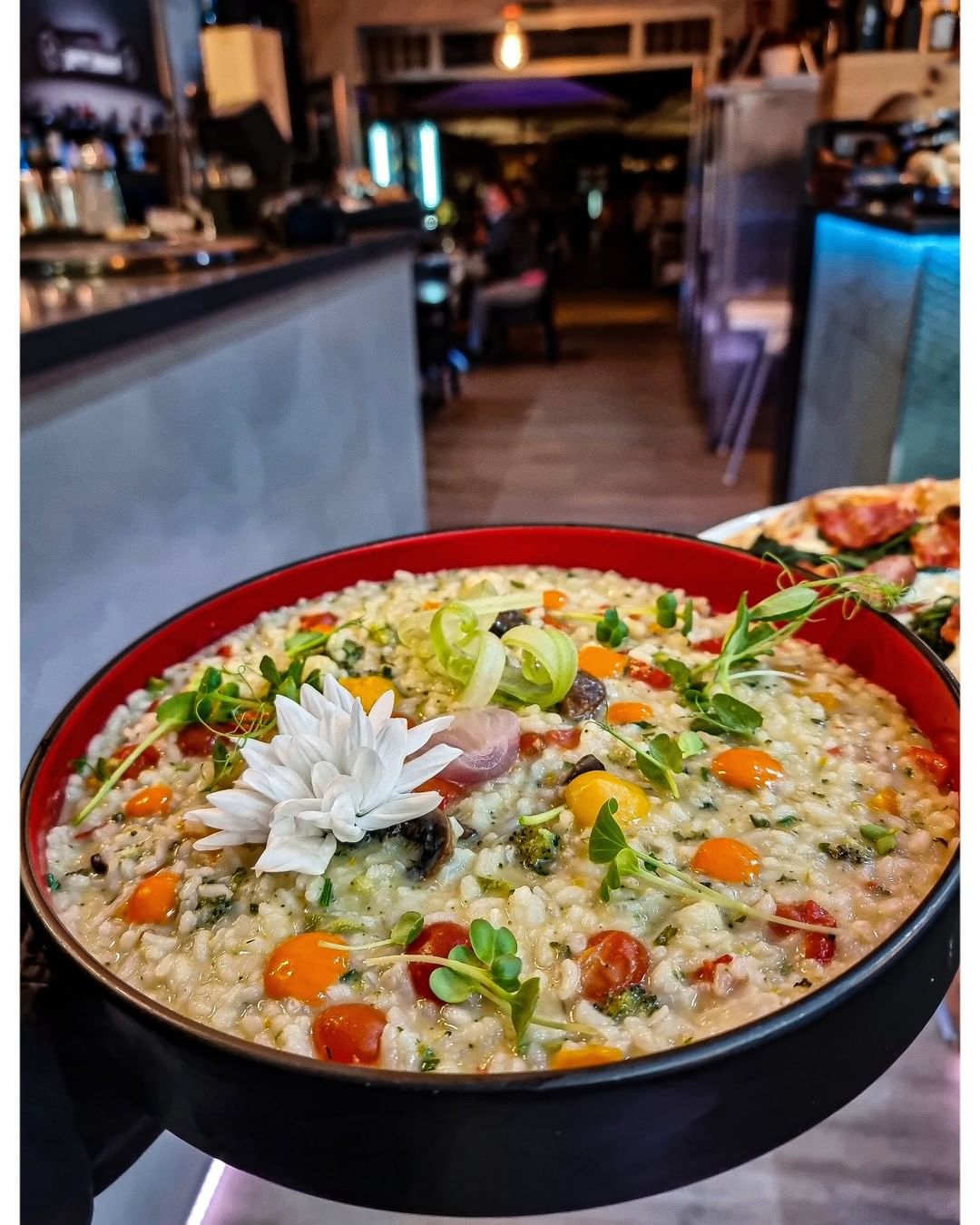 This was the first location where we met the traditional tapas dishes. It is perfect for those who cannot stop on one and want to try everything at once. Small portions designed for two allowed us to order five different dishes (which diversity was a disappointment) and a dessert. It is also worth adding that deserts are not cooked in the kitchen but are bought elsewhere. The service was very fast, the hall was neat, there were a few tables in the street and they closely adjoined all passers-by. Our check this time included 5 dishes + 2 desserts + sangria = 30 Euro and was rated with 4 points on Google maps, where the average score is 4.6.
4. Restaurante La Oliva, Bajamar.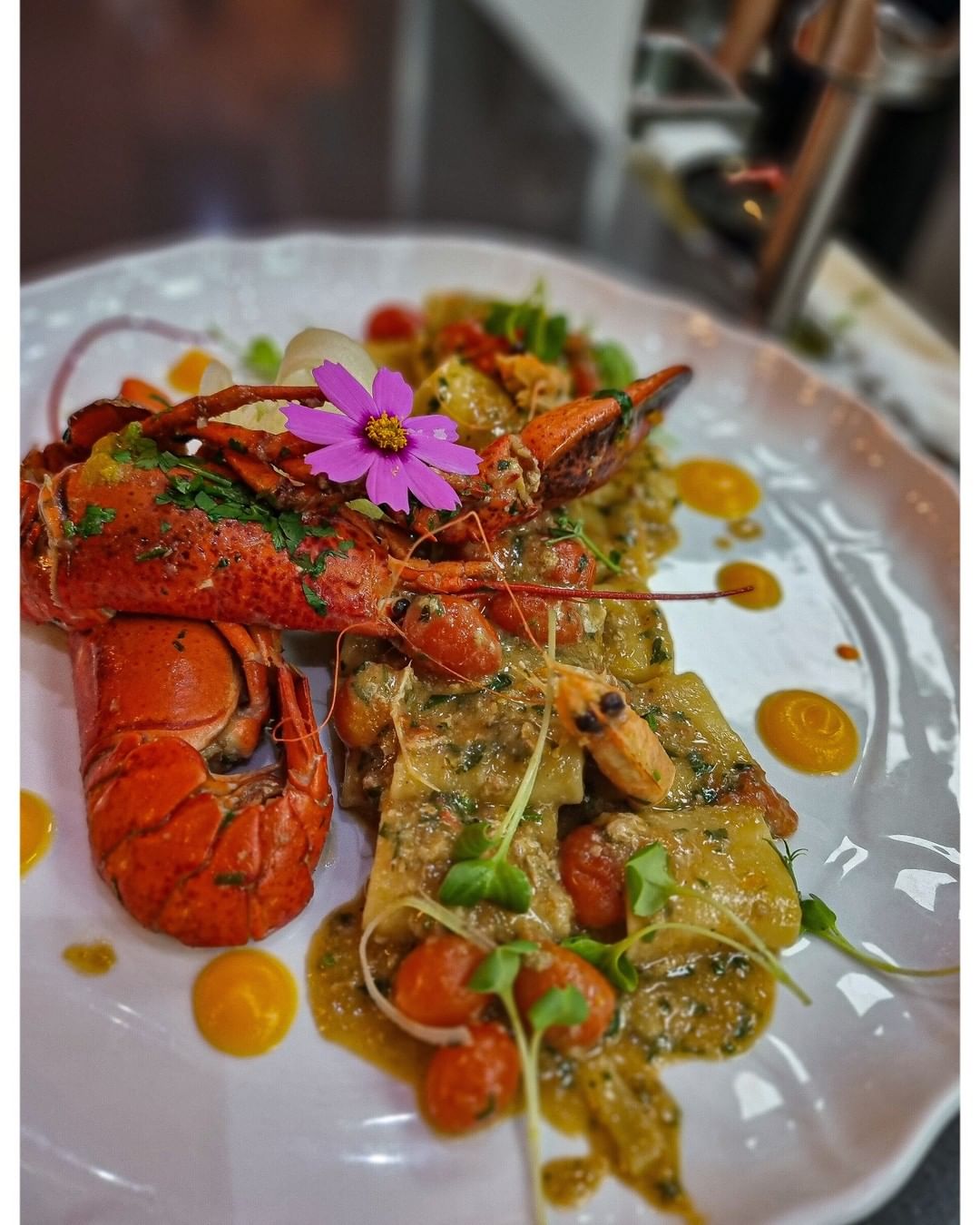 It looks more like a tidy snack bar rather than a restaurant, but we were intrigued by the score of 4.7 points on Google maps. We were hungry after a long hike and decided to try our luck, which was on our side. At about 7 p.m. the cafe was completely empty, and we took a place next to the window. Only main dishes were presented on the menu, but the waiter / barman / manager in one offered to serve all in the tapas format. One of the features of this cafe*restaurant was that the menu had vegan and vegetarian dishes cooked just as responsibly as others. We tried: rice with cuttlefish ink and royal prawns, ravioli with cheese sauce, croquetas and we left not a bit on the plates. The cook was at his best both in cooking and in presentation, it was really delicious. Our check for 30 Euro this time included: appetizer + 2 main courses + 2 desserts + beer + tea. Impressed by the service and the kitchen, we left 5 stars on Google maps.
5. Restaurante Oliva, Puerto de la Cruz.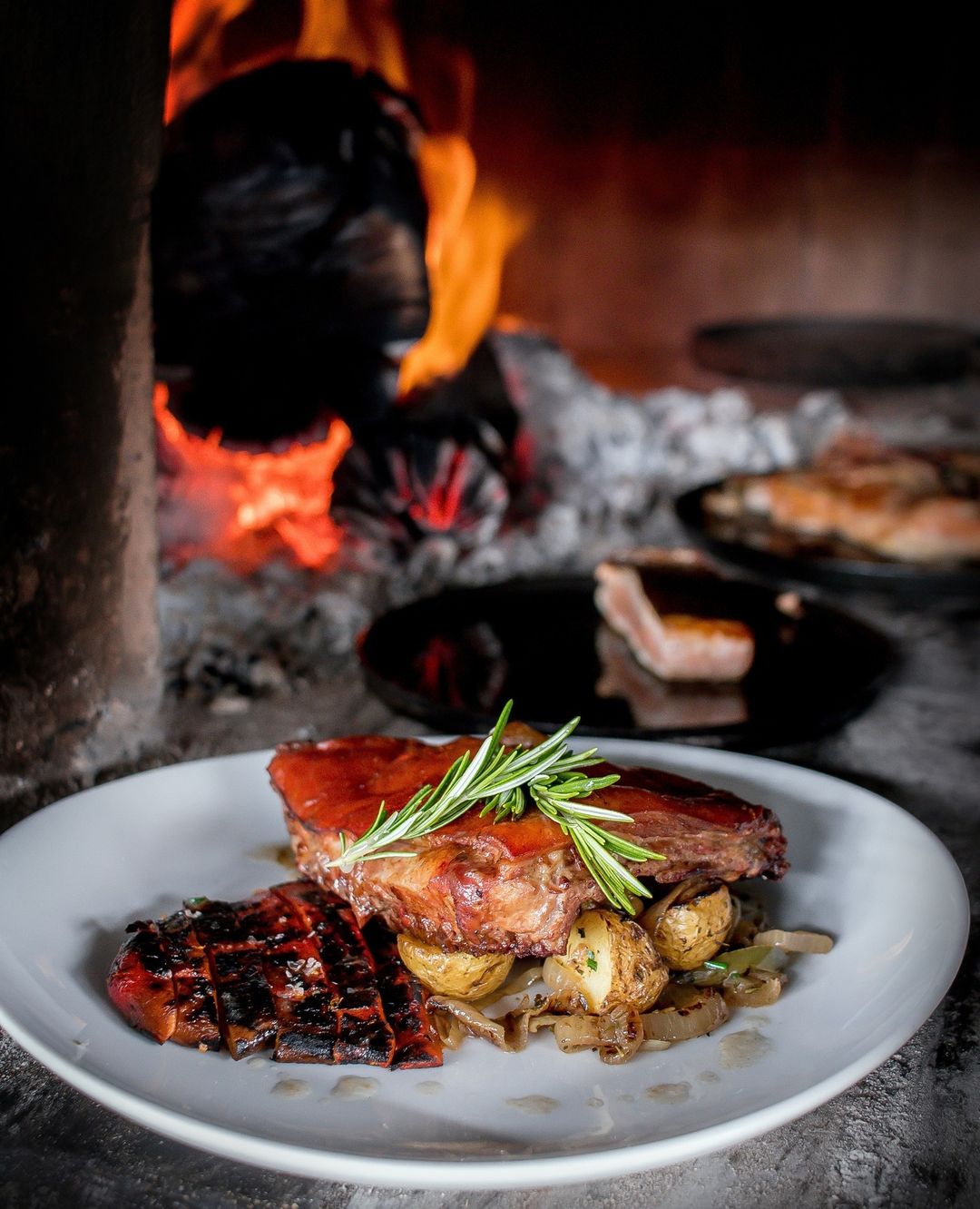 This one impressed us most with kitchen and service. The menu has main dishes, tapas and a variety of drinks. When we came all the halls were full and we occupied almost the last two places, but this did not affect the quality and speed of the service in any way. A delicious squid with sweet potatoes and a chicken of perfect cooking under blue sauce were also estimated as 5 points on Google maps. But the check this time was 35 Euro and included snacks + 2 main dishes + 2 drinks + tea.
Tenerife is an island for any budget.
You can buy food in a supermarket and cook at home or indulge yourself with culinary art from different chefs. On the island you also can find popular McDonalds, KFC and other representatives of fast food. But is it really worth flying so many miles to eat there? You decide.