The Grouse Grind is notorious for its challenging 2,830 steps and 2.9km ascent; it is not for the faint of heart. But with the busy parking lots and throngs of people going up the trail, "The Grind" can be a bit chaotic.
For a change of scenery and perhaps a little more elbow room on the trail, Abbotsford boasts its own special grind; on Sunday, April 24th, our group of 14 headed up the Abby Grind.
How To Get to The Grouse Grind
Coming from the west, take Whatcom Road exit (Exit 95), and head north on the overpass. Turn right onto North Parallel Road. Take a right at Atkinson Road, at which point you will cross over a small bridge before the road turns back into North Parallel. Turn left onto McDermott and follow the road until it opens into a gravel parking lot.
Although this is technically private property, the owners have graciously allowed for enthusiastic hikers to park and grind away.
Trail Description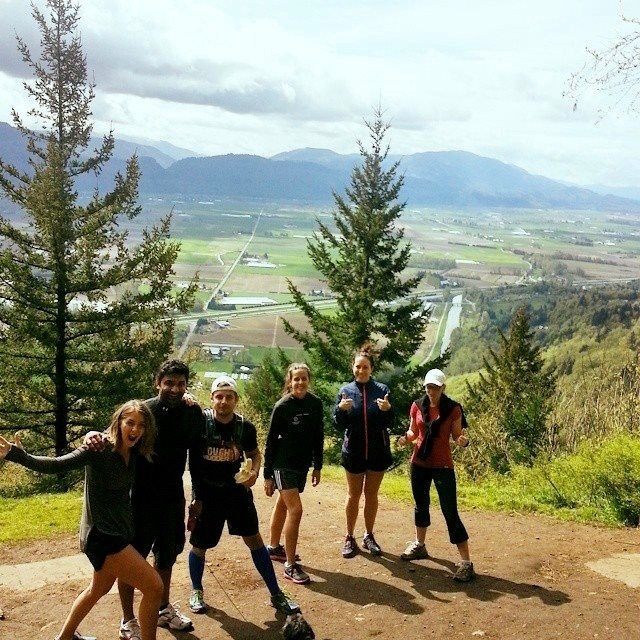 The trail gets straight to business, so we suggest a little warm up in the parking lot to get some blood flowing before you begin your ascent. The trail is approximately a 2km grind up, with elevation gains of about 406 meters. Well-maintained and well-used, the trail is clearly marked. Closer to the top there is one section which requires a slower, more cautious pace, but overall the trail is in great shape.
Although shorter than the Grouse Grind, the Abby Grid is quite bit steeper and offers a great cardiovascular challenge. Under the canopy of the pine trees the trail is fairly relentless until you reach a very brief levelling off of the trail. After this fleeting moment to catch your breathe, the trail gets significantly steeper. The last kilometre of the trail is the hardest push of all. Put one foot in front of the other and just keep on moving.
As the trees break and you make your way into the clearing at the top of the grind, you are met with a stunning view of the valley. A green quilt of patchwork farmland stretches out before you, and to the south is a breathtaking shot of Mount Baker on a clear day.
Not To Brag, But…
A fast moving group, Abbotsford was at the top in under 45 minutes. This is a fairly gruelling pace where one begins to ponder life decisions as the amount of oxygen to the brain begins to diminish through laboured breathing. Our fastest group member finished in 32 minutes with the Abbotsford IF time to beat still holding at 21 minutes. Anyone who has run this trail can tell you, that is practically a vertical sprint!
We openly challenge all other members and trainers to come to Abbotsford and give our Grind a go. See if you can beat our leading time!