I've decided after a decade of traveling the world that I've found my happy place, at least for now. And strangely, or maybe proudly, I can say that place is here in the United States of America: Kauai.
Why is Kauai my happy place? The best beaches on earth? No, not even close. There are far more picturesque beaches in S.E. Asia, or even the Caribbean. Maybe the tours and activities? Nope, actually I think Kauai, while full of good tours, is actually not even the best Hawaiian island for that.
So what is it? I can't say. Or maybe I don't know? So when something can't be explained and can't be understood–what's left? magic.
Where to Eat in Kauai : Magic.
There really is just something magical about this island, that keeps calling me and my family back.
Note: Before I get into my favorite Local Grinds, first, an update of sorts. I wrote last year about the beaches to visit with babies, and this year I added two more to that list: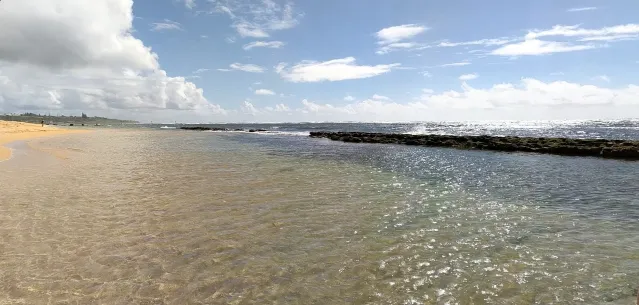 The Lesser protected (and open to waves) section of Fuji Beach.
Fuji Beach: This strip of beach, just north of the Courtyard by Marriott (5 minute drive) is fantastic. Get there before 10am and you might have the whole area to yourself. There is a protected reef, which offers truly baby friendly conditions, near the rock wall. As you move north you have a shallow area which the waves are still protected against, but heavy surf can cause some amount of wave action. Perfect for a 4-6 year old who's learning the ocean. You can walk another 30 yards and leave the protection of the reef and have full surf if that is your kind of beach. Sand is great for sandcastles–and there are shade trees. When you're done there is a shower, and you position yourself for some great food as you're in Kapaa already. (No Lifeguards)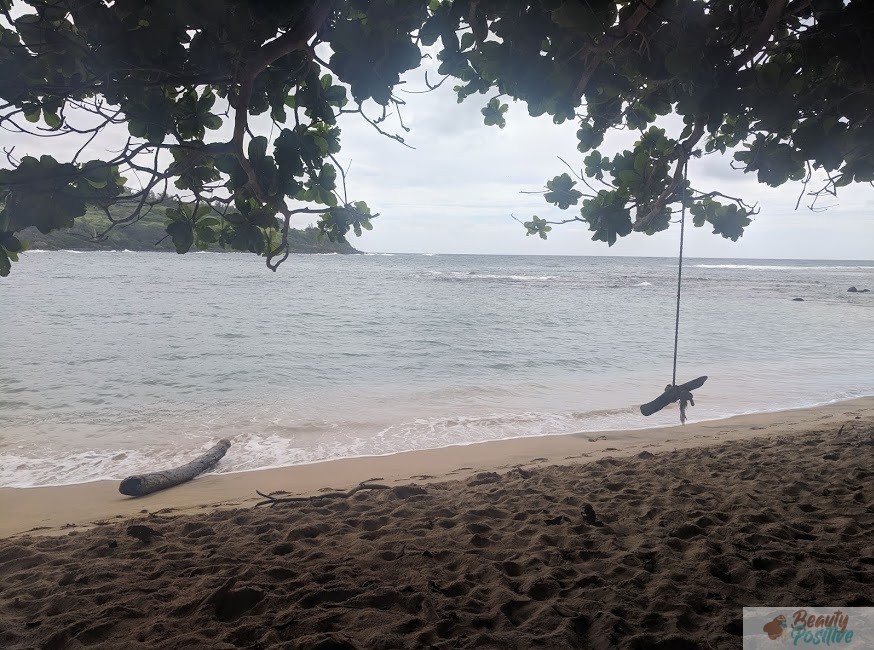 Sitting under shade trees, eating a Soursop, all alone. The protected Eastern shore of Moloa'a Bay.
Moloaa Beach (north Shore): This one doesn't appear to be so great at first. There is very limited public parking, 4 or so spots next to the white fence on the north side of the road, and a few others where a small enough car can fit mean you'll share the beach with no more than a dozen or so people.
Once you park you'll walk a bit to the public access path, and this path drops you at the near center of the bay. You have to decide which way you want to proceed. There is apparently a good surf break to the west–but with kids you'll want to head east, using the protection the reef offers. Tide pools, and giant crab holes make for easy exploration and discovery of animal life. Soft sand means good sandcastle and sand play–and protection from wave areas along the east coast make for a fun day at one of the easiest beaches to reach on the north shore.
As you drive to the beach (or back from it) keep an eye out for fruit stands which are stocked in the morning with local papaya, lychee, oranges, passion fruit, and anything else that is in season. These look like large mailboxes and there's a honor system to pay for the fruit, a cash box. Bring plenty of small bills and grab fruit for the beach from this very unique fruit delivery system.
Where to Eat in Kauai
A patron of our Podcast told me the other day, "You Can't Vendome in Kauai," and I thought about making that the title of this post. The statement really is true. While there are some good higher end places to eat at the resorts along the south shore–that's not really what Kauai is about.
When I'm home, I'm craving these foods, and the places that are uniquely Kauai. That means fresh fruits, savory meals full of rice and meat, cold Poke of all different flavors and types, and desserts which are so good you take pictures of them and ask friends to try to recreate them when you get home. (Guilty as charged)
How I Eat in Kauai
I think I need to explain what eating in Kauai is and what it isn't for me.
Eating in Kauai follows this pattern for me: Breakfast, plate lunch (to go) with 2-3 types of poke and fresh fruit purchased at a farmer's market. Lunch is almost always eaten at a beach, followed by dinner at a restaurant.
Because this is how I eat I'll include Farmer's market listings for Breakfast/Lunch as well as beaches to consider taking your lunch to. The places that really shine for me on the island in the following categories:
Breakfast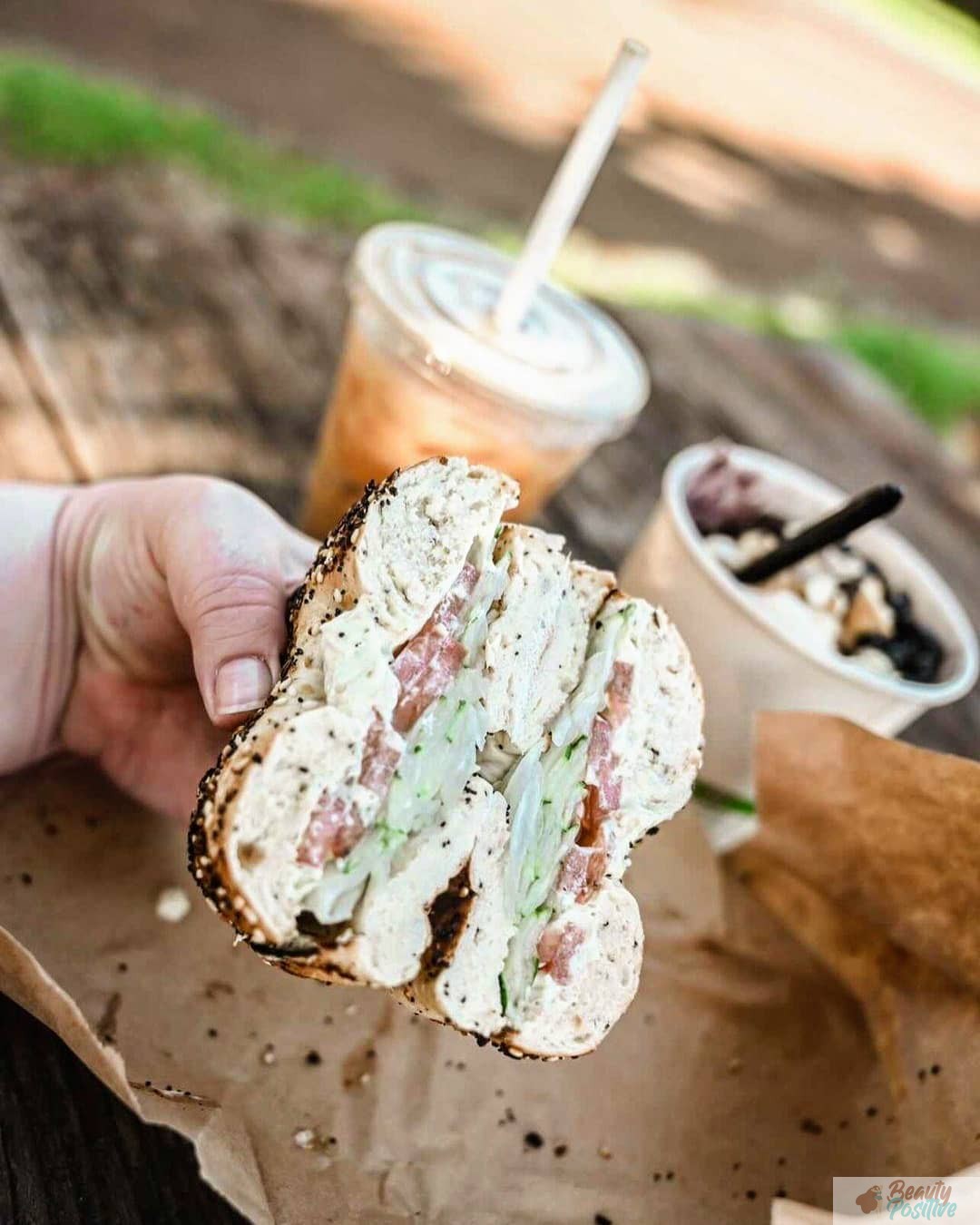 Breakfast is usually eaten in (hotel or airbnb). With three notable exceptions I don't think Breakfast is a big deal on the island. Those three exceptions are pretty spread out, and not really 'close' to most hotels. You might still want to go to them, but consider them for brunch or lunch as well.
The #1 Breakfast Spot in Kauai is:
Nom Kauai: This place is serving up REALLY great southern style breakfast and Brunch using as much local Kauai farm based food as possible. They have a full bar and a brunch game that rivals that of anywhere. Nom is an 'ocean-friendly restaurant' per the surfrider foundation's requirements. They've really made a name for themselves with great food, made as locally as possible (which can be tough on an island). For great food with a good conscience there's no better place on the island.
The only issue with Nom, is one of space. The restaurant is *tiny* and so wait times can be long. Like everything, go early, or plan to wait a while.
Pairs with: Fuji Beach. Nom is a 3 minute walk from Fuji beach. You might be able to ask them to call you when your table is ready–and relax on the beach for a bit. Either way, a great beach to hit before or after your brunch at Nom. Closest Farmer's market: Coconut Marketplace (Tue/Thur)
Honorable Mention:
Kalaheo Cafe: I've written about this place for 5 years now (wow). This is as close to a standard 'L.A./O.C. Beach Breakfast' place you'll find here in Kauai. Good coffee, bottomless refills and big plates filled with potatoes, eggs, and breakfast meats. Just a good coffee shop/diner serving good plates for breakfast.
Pairs Well With: Wiamea Canyon drive. Or a boat trip out of Port Allen. The location near the start of the canyon drive makes this a great start to a day touring the "Grand Canyon of Hawaii" Closest Farmer's Market: Kauai Community College(Saturday)/Koloa Farmer's Market(Monday)
Waipouli Deli and Restaurant: Along with Hamura Saimin (see below) Waipouli Deli is one of a few places which are still serving old school local grinds. These two places maybe all that's left of Kauai before there was 'traffic.' Opened in 1977, and really not much has changed since. You'll see locals grabbing breakfast/lunch before work to family and friends catching up when they happen to both be there, to tourists looking to grab some local flavor.
Giant portions (seriously, don't come here unless you're either super hungry, or have kids who you're comfortable splitting a meal with) of Local favorites like Loco moco, Super Saimin, and their Massive Oriental Plate are really impossible to finish. For breakfast any of their eggs n' things are great, along with their mac nut pancakes or banana pancakes. Caution: each pancake in an order of 2 is the size of a large dinner plate.
One weak area here is the coffee–they use powdered creamer on the table instead of real cream, so you might want to grab some coffee elsewhere, or just bear it for what is a unique Kauai experience, and some of the best local grinds on the island.
Pairs Well With: Lyndgate Park State Park and/or Fuji Beach Closest Farmer's market: Coconut Marketplace (Tue/Thur)
Lunch (Plate Style)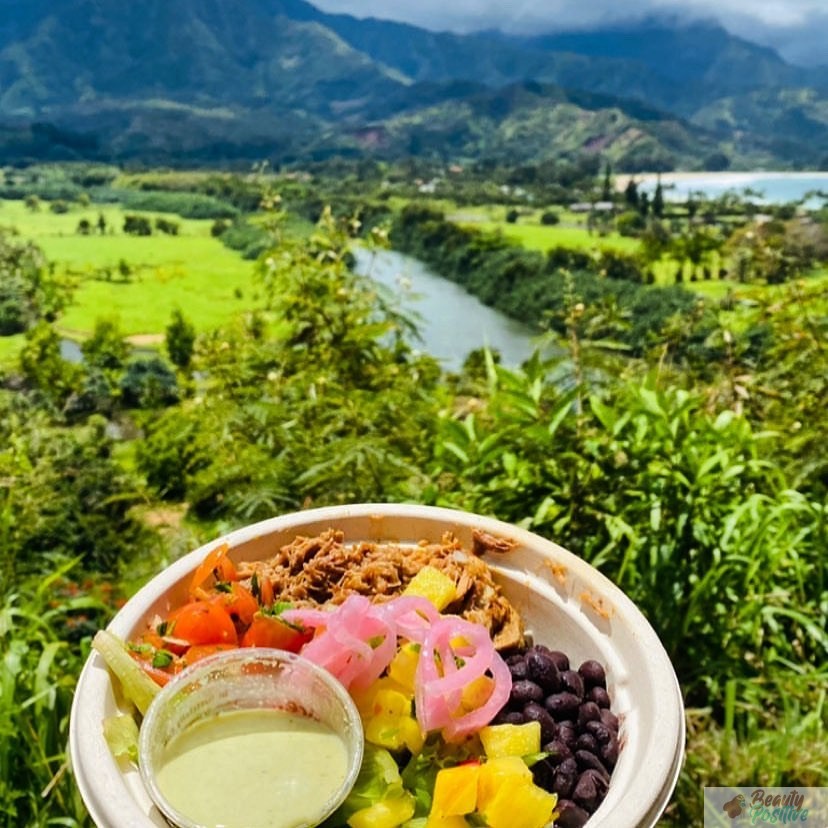 Naming the #1 place for lunch, and plate lunch on the island is going to cause some disagreement here. I will say that the choice I made is based purely on how well this place aligns with how *I* like to eat on the island. Remember I said lunch for me is plate lunch to share, fresh fruit, and then some Poke/Tako. There's one place on the island that can do this better than anyone, and it is:
The #1 Place for Lunch in Kauai:
Konohiki Seafoods: Located in Lihue, minutes from the airport, Central to almost anywhere on the island. Konohiki does the following really well:
Garlic fried chicken, Plate lunches, bento, Nigiri, Poke (Ahi, Salmon, Crab, and Tako). Basically, everything.
This is *the best poke* on the island in my opinion. Their kimchee Tako is perfection. Their desserts (in the fridge with the sodas), specifically their Ube Haupia Pie MIGHT give Right Slice a run for best slice of pie on the island. Their Taro cream filled Malasadsas sell out fast, but if you can get one….get 3 or more.
A single bento/plate lunch, a few extra pieces of chicken, 3 small containers of Poke could feed 2-3 people for lunch. Keep coming back as their daily specials change, and the line moves fast.
Pairs well with: Lyndgate State Park Beach, but again so central you could get from here to Poipu, or anywhere really in a relatively short amount of time. Closest Farmer's Market: Kauai Commuity College (Sat) (from the south) or Coconut Marketplace (Tue/Thur) (from the North)
Honorable Mentions: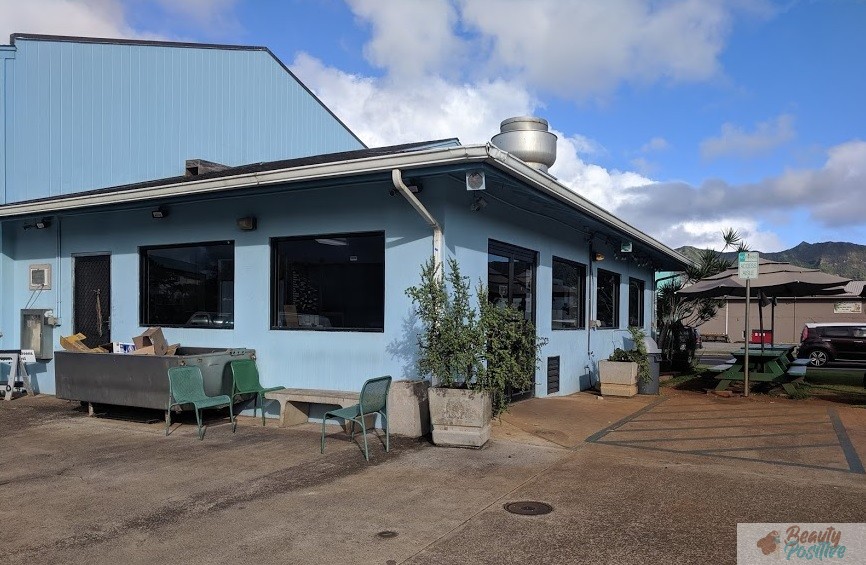 Yes, this really is the #2 restaurant on the entire Island of Kauai (to me). Mark's Place, Lihue HI.
Mark's Place: This place is on the corner in an industrial/commercial area of Lihue. You can easily miss it, as there isn't a sign on the front of the building. This place really does have the best plate lunch on the island, and was #1 to me for a long time. Their Mixed plate is enormous, and their Spam Musubi is my favorite anywhere as well.
They also have great homemade deserts. Each day there is something different so be sure to ask what the desert of the day is. No trip to Kauai is complete without one (or more) stop off at Mark's Place. There are 2 or 3 picnic tables outside if you want to eat there, but really you can't beat taking it to go, grabbing some pie at Right Slice and eating it at the beach…
Pairs with: It isn't 'close' to Salt Pond Park beach, but for some reason for me Mark's always ends up at Salt Pond, after a stop at Right Slice in Hanapepe. Closest Farmer's Market: Kauai Community College(Saturday)/Koloa Farmer's Market(Monday)
Eating in:
Sticking with my style while on the island these are the places I like to 'eat at,' in no particular order because… it is impossible to pick a winner among so many gems:
Hamura Saimin: Saimin (Sigh-Min) is Hawaiian for Ramen. Like most Hawaiian foods you've got a slightly different take on the dish here. And just like Waipouli Deli hasn't changed much from 1977, Hamura Saimin is a time capsule of sorts as well. Walking into Hamura Saimin transports you back 40 years–to a simpler time. This *is* local food, a fact you'll instantly recognize as you hear the small talk between patrons, each other, and the staff.
 

 

View this post on Instagram

 
Cash only, but open L-A-T-E (midnight? Unheard of on the island!), order a bowl and a stick of bbq. I believe the noodles are hand made, and the broth is seriously great. Wait times can be long, so try to go on an off hour. They make a liliko chiffon pie, which really has a lot more in common with an egg custard tart. The pie is a mile high, and tastes like something your grandma would make 6 of for a holiday meal.
On a rainy day this place is heaven. Steaming noodle soup, with chili pepper water and a salty bbq stick.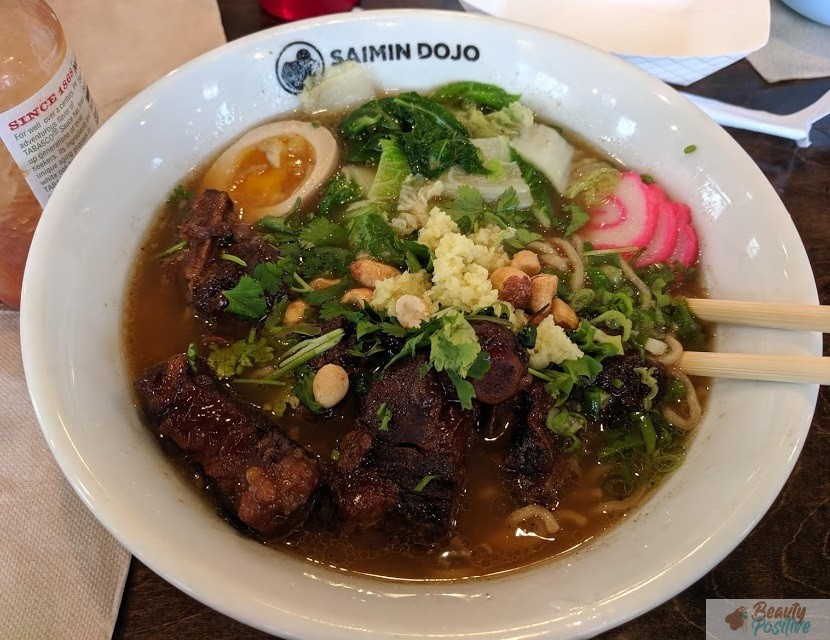 Saimin Dojo Oxtail Saimin.
Saimin Dojo: Complete bookends of each other–If Hamura is the original Siamin Dojo is taking Saimin on the island to a new level. Oxtail Siamin, Smoked meats Saimin, bowls full of greens, kimchee, peanuts, and savory meat, along with perfect noodles.
Not limited to just noodle soup, Saimin Dojo does a great fried chicken, and some really good rice bowls as well. Their Ono Bowl has the best kim-chee on the island, which I have to imagine they make themselves.
Coffee
With two kids coffee is sometimes the only thing keeping me going. And Kauai doesn't disappoint. Whenever you are on the island there's great coffee near you, including;
Best coffee: Small Town Coffee, Kapaa. This is a coffee food truck, located on the west side of the highway. The beans and the brewing method results in the best cup of coffee on the island. Really just fantastic stuff. This is a to-go only place, but the fact that it is central to almost everyone means you'll drive by it at least once while you're visiting.
Honorable Mention:
Sunrise Cofee, Kapaia. Another coffee truck, this one is black, and parked in a large lot with some seating. Their regular coffee is good, but their star drink is a vanilla macadamia nut latte, which can be ordered with macadamia nut milk to really complete the Mac Nut circle.
Not too sweet, with a strong espresso flavor, their espresso drinks are crafted extremely well and they're never too busy.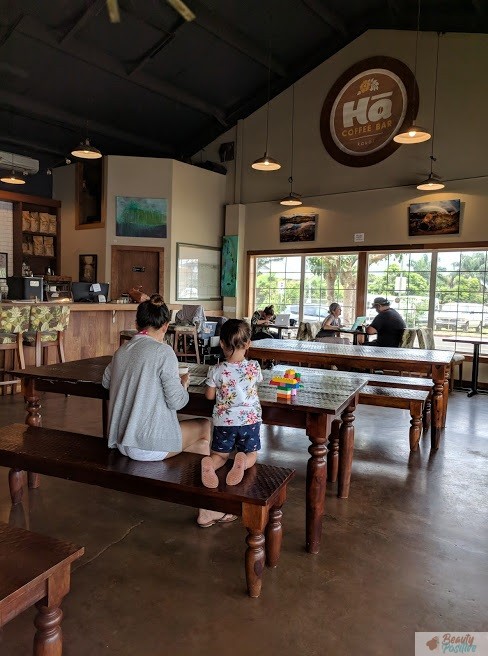 This much space is pretty much unheard of on the island.
Best Cafe: Ha Coffee, Lihue. I've written about Ha before, and really it seems impossible to say, but it actually has gotten better. How? Well the coffee is just as good, and the interior space is one of the best on the island. But what's made Ha even better? There is now a Right Slice Pie Vending machine.
Yes. The best Pie and the best Coffee on the island. Are together.
The vending machine is a bit tricky to use, but it is stocked fresh daily, so you're saving yourself the drive to Hanapepe, and getting to spend more time inside Ha. Win-Win.
Desserts
Best Desserts: The Right Slice, Hanapepe. Not really a fair fight, as no one else except Konohiki's Haupia pie comes close (and that's a single item). Right slice makes pie you wish you knew how to make.
They specialize in Hawiian twists on classie pie. So think of a pecan pie, but instead of pecans they'll use Macademia nuts–and chocolate, and coconut. Or think of a peach pie, but instead of using ripe peach slices they're using super ripe mango and then adding in Passion fruit juice.
Can I pick a favorite. No I cannot. They are all so good you need to literally eat ever pie they make.
Note: I do not actually like pie when I'm not in Kauai.
Closing Thoughts
This is not an exhaustive list whatsoever. The island is small. The options are not. Whatever you might be looking for you can find it. There are Pho restaurants, and good fresh fish places. I haven't mentioned Sueoka Snack Shop in Koloa, or Hanalei Bread Company or Tropical Taco in Hanalei. Is that because you should skip them? No, but they're not the places that I plan my return visits to.
And Kauai is not standing still–there are new places to try like Japanese Grandma's Cafe in Hanapepe. The problem with going to Kauai is even if you follow my style of eating you just can't possible hit every single great local place in just one trip.
So I guess that means I start planning my next trip back….