Testing Out Graydon Skincare
The best part about being open to conversation is you can make contacts wherever you go! I had the opportunity to speak on an International Women's Day panel in March. The event featured women in media and conscious beauty brands. Needless to say, one of the brands featured was of course Graydon Skincare!
First off let's slow things down a little bit because you might be thinking, what does conscious beauty even mean? It's okay if you are because I was thinking the same thing when I first arrived at the event.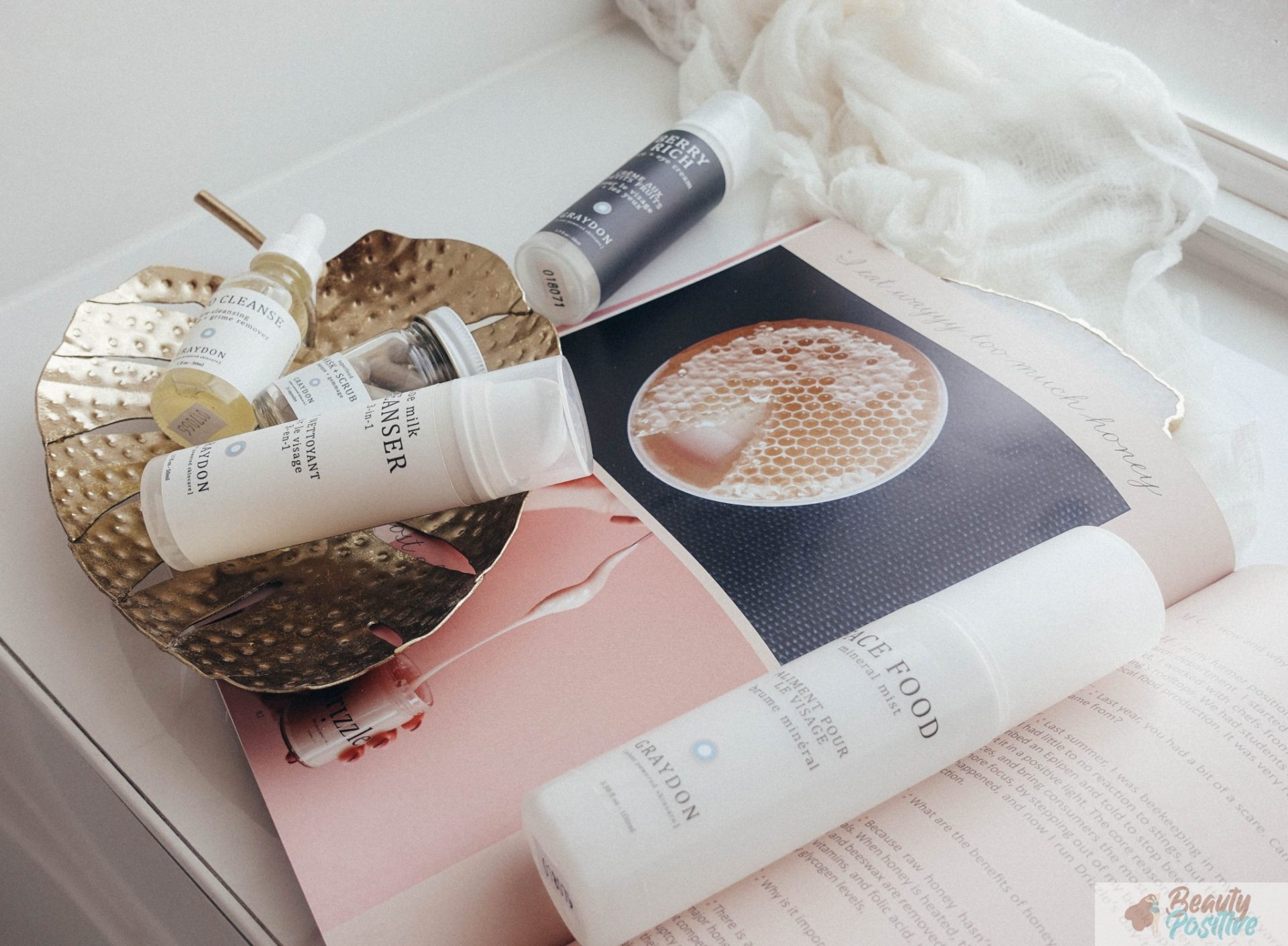 Conscious beauty generally features a collection of non-toxic beauty and skincare products created with your health and the environment in mind. Essentially, these are companies that want to make responsible lifestyle choices easy! If you see this kind of branding you can generally connect that company to being mindful of their ingredients, non-animal testing, DIY beauty products, natural products and sustainable choices. (But of course do your research to make sure!)
The cuties at Graydon keep these things in mind when creating their product lineup. With that being said, I was thrilled when they asked me if I wanted to test out some of their hero products!
We mix up superfoods + science and create mindfully made skincare to support your skin, your health + wellbeing.

– Graydon Skincare
What I Tested
I always test products for a week and a bit before posting them on Below the Blonde. Of course I am making sure I don't breakout in any weird rashes before showing you! Don't worry we are all clear with these beauties!
Aloe Milk Cleanser:
I always get a little bit giddy whenever a skincare company sends me a cleanser to try. There is something so wonderful about cleaning your face after a long day. Like you have officially signed off and punched in your card from your responsibilities! I really enjoyed the smell and the consistency of the Aloe Milk Cleanser. It was fluffy and rich in a way and really smoothed out my skin. This cleanser did what a cleanser needs to do – it cleaned my face!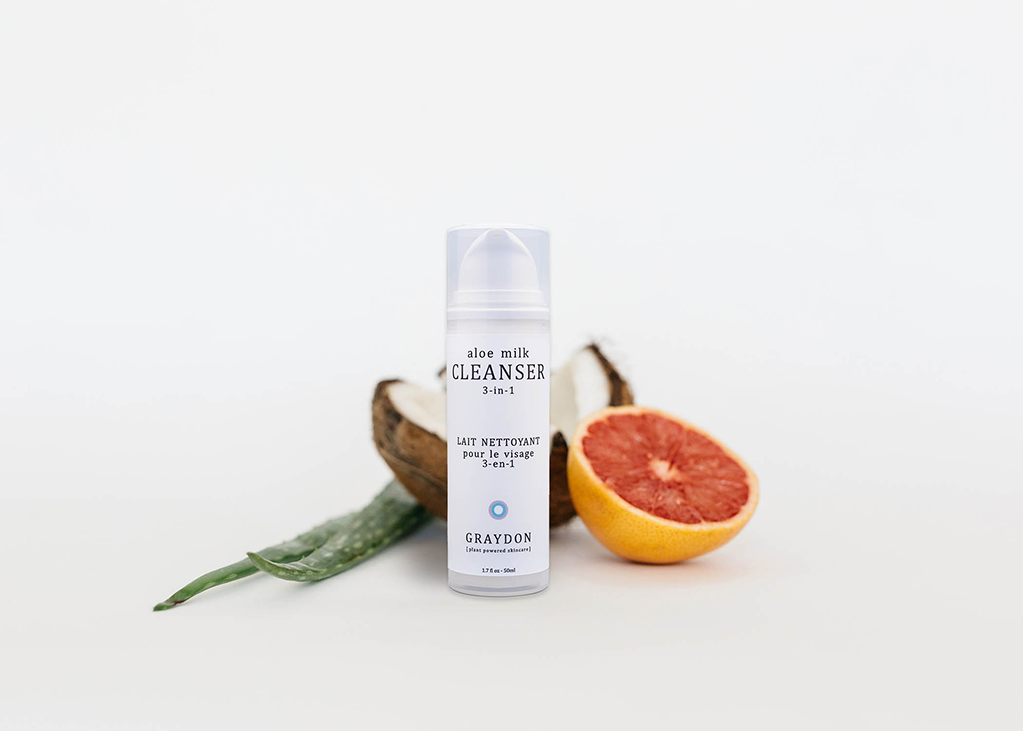 From Graydon
This gentle cleanser takes dirt and make-up off your face without stripping away the natural oils you want for your skin to stay young and fresh. This creamy oil-based cleanser works exceptionally well for all skin types because it dissolves, bonds with and pulls out the dirt, sebum and make-up lodged deep within your pores, leaving your face feeling clean and taut. Infused with our Pink Grapefruit Geranium Blood Orange AromaBlend, you will enjoy its fresh yummy smell every time you use it!
---
Mask + Scrub:
My immediate reaction when I say the Mask+Scrub was obviously, do I eat these?! After reading the instructions the answer was swiftly no! I find conscious beauty so interesting because there is a certain element of 'do it yourself'. For these little capsules you can use water or a cleanser (I used the Aloe cleanser) and there is an option to add honey or yogurt once you break them open in your palm! I am a big honey girl so I just went for it!
One capsule was good enough for a full face and I didn't see any waste. I felt comfortable sitting with this mask on for the recommended time with no concern for a drippy mask. Check out more about their superfood mix below…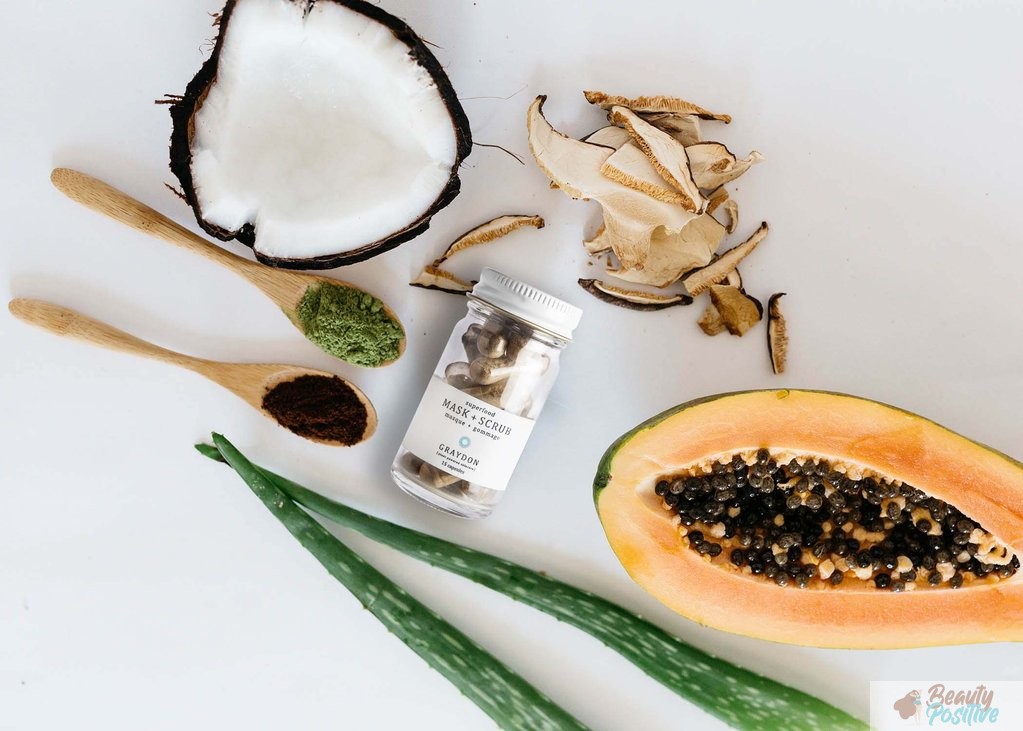 From Graydon
If you're wondering how to get glowing skin this is the answer. Our Mask + Scrub is made with 15 outstanding superfoods, the synergy of which combine forces to gently but effectively exfoliate and brighten your face.
Unlike a typical powdered mask or scrub Graydon's is pre-portioned in single serve (vegetable derived) capsules which keep the superfoods inside super fresh (so they don't oxidize).
Our capsules are easy to use. Once opened, we suggest blending the capsule contents into your favourite creamy cleanser!
Or experiment with ingredients from your own kitchen to create the ultimate superfood mask your skin will 'drink' up and reveal radiant glowing skin!
Use it day or night and when you have at least 5 minutes and when want to give your skin some much needed 'skin nutrition'. Appropriate to use up to 3 times per week.
Here's how the superfoods work: glacial clay nourishes, purifies, exfoliates, soothes, and heals, dramatically improving skin health, meterorite powder helps exfoliate, vitamin D2 (mushroom source) promotes skin healing, papaya contains an exfoliating fruit enzyme, white willow bark is a gentle exfoliant, shiitake mushroom helps to brightens your skin, activated charcoal aids in detoxification, vitamin C assists in repairing damaged tissue, astaxanthin (red algae) revitalizes photo aged skin, licorice root promotes skin elasticity and fights inflammation, ground chia seeds speeds up skin repair, green coffee extract potent is a free radical buster, cinnamon is skin plumping, diatomaceous earth exfoliates and zeolite works to absorb toxins.
*Though all the ingredients are food grade, this product is meant for topical use only. 
Keto Cleanse:
Some days a general run of the mill cleanser will do the trick, and other days you need to really scrub your day off. Have you ever thought about a "pre-cleanser?" I think the only time I have ever thought about this is when I watch my mother clean the dishes and then put them in the dishwasher! Well honey it's a good idea when it comes to your skin too!
This is the first time I have ever used a product like this before. I have sensitive skin and was worried this may be a little overkill, but it wasn't. The Keto Cleanser was the perfect addition to my skincare regime at night when I have been soaked in TV makeup all week. I don't use it everyday but on days that I really need it, it's a great pal to get to the grime.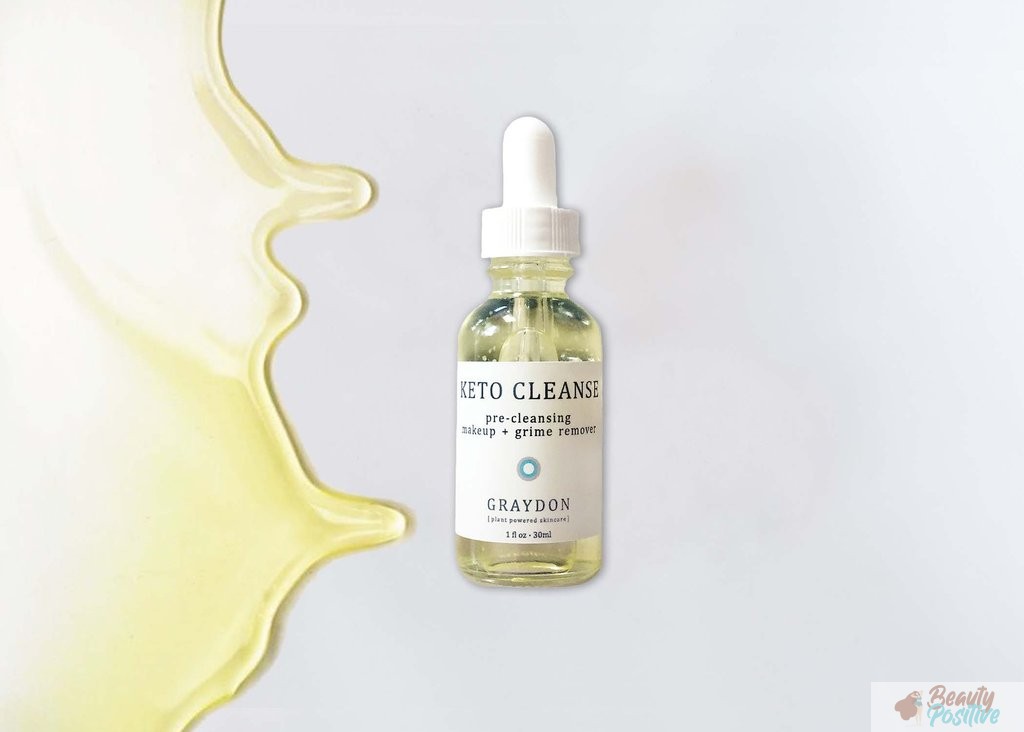 The art of cleansing is the foundation of any skincare regimen! One of the methods that has taken the spotlight recently in the modern skincare world is cleansing oil.
The ways in which we clean our face have transformed over the years. From your grandmother's cold cream to the squeaky clean foaming cleanser of your teenage years, there have always been a variety of ways to get your skin clean.
And, here at Graydon, we believe in setting aside a few minutes each evening to cleanse off the day, both physically and energetically. Granting yourself extra time to give your face some love can be truly transformational — and with our Keto Cleanse's rich buttery coconut aroma, the experience is truly intoxicating.
While cleansing oil seem totally new to some, using oil to clean and purify the skin has actually been around for thousands of years. Ancient cultures from around the world used some of the same natural plant oils that we use today to remove dirt and grime from the skin. What's old is new again.
So, how does cleansing oil work? It begins with the basic chemistry principle of 'like dissolving like'. So, oil actually dissolves the excess oil that builds up on our skin throughout the day that clogs our pores. It's important to note that your skin naturally produces a type of oil itself, called sebum. This beneficial substance maintains our skin's natural pH balance while also protecting and moisturizing.
Many harsh traditional cleansers not only remove dirt and grime that have accumulated throughout the day, but they strip the skin of its own sebum, which can wreak havoc over time.
Without this protective film of oil, the skin is not only more susceptible to bacteria and the possibility of infection (acne and inflammation), but it also sends a message to your skin that it needs to produce more oil, resulting in excess oil. And more breakouts!
This cleansing oil will thoroughly remove unwanted congested oil and grime, while simultaneously moisturizing the skin and protecting it.
You'll be happy to know that the Keto Cleanse is truly great for every skin type. From normal skin to severe acne, everyone can benefit from cleansing with this uniquely awesome blend. 
Please Note: Due to the nature of the amazing natural oils in our Keto Cleanse you may find that it slightly solidifies when the bottle gets cold, especially in winter months or if your order has been sitting out on your doorstep. This is normal! Simply run your bottle under hot (but not boiling) water or place it (with the cap on) in a container of hot water for a couple minutes, give a shake, and it will restore back to it's normal fluid state!
Face Food:
The Graydon Skincare Face Food mineral mist was probably my favorite product of the bunch! When you spray this on your face it feels glorious. There is no tingling or anything like that, but the spray in itself is very satisfying. I noticed a change in my skin after using the mineral mist. Also, I feel like my skin is more protected and better prepared for the day ahead.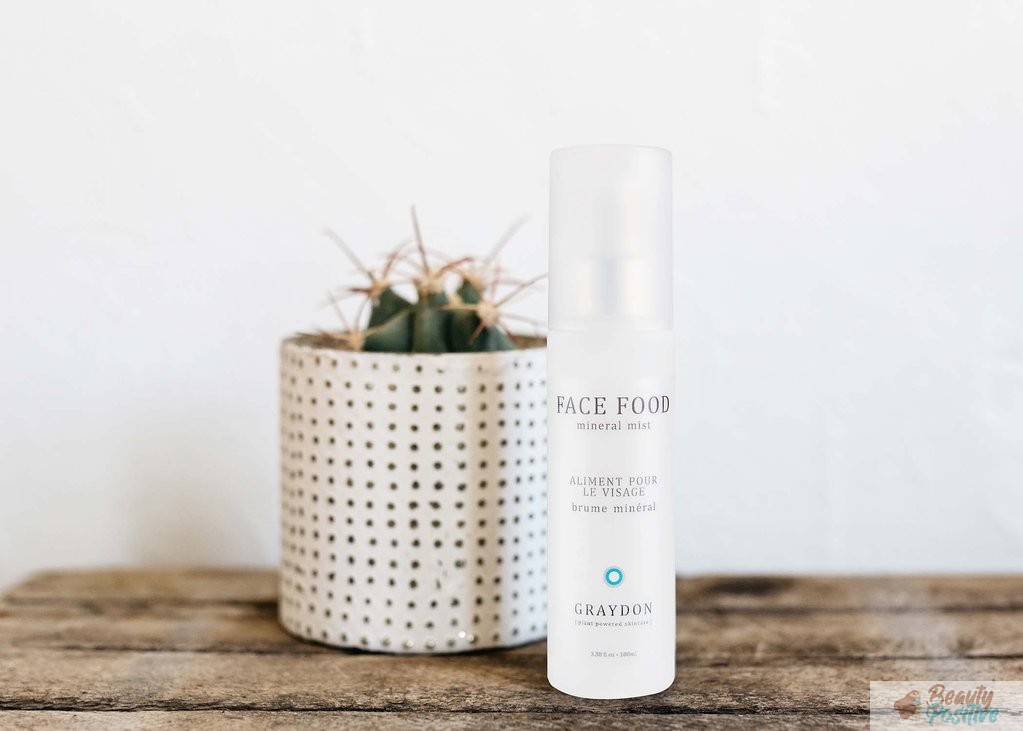 From Graydon
Using our Face Food is a wonderful way to keep your skin healthy, fresh and rejuvenated – no matter your skin type. It acts as a redness corrector and is also the ultimate way to get the most out of your favourite serum, facial oil or moisturizer as it helps your skin to absorb vital nutrients much more effectively and efficiently.
It's formulated with skin-friendly minerals that quickly absorb into the sub-vascular layer of the skin to maximize deep hydration.
Copper helps the production of collagen, the protein responsible for the structural integrity of the skin. It is also involved in the production of elastin, the protein that is mainly responsible for the elastic properties of blood vessels and skin.
Silver has been used for thousands of years and is known for its incredible healing properties, helping to provide protection against irritation, rashes, sensitivity, and breakouts. It also assists in cooling conditions including psoriasis, eczema, rosacea, and dermatitis. Better yet, silver helps to neutralize sodium-fluoride found in the tap water you use to wash your face, which tends to be harsh for sensitive skin that's prone to react.
Zinc acts as a redness corrector by decreasing inflammation and readily penetrates into skin cells on your face creating almost instant hydration and cell therapy. It assists in minimizing bacterial infection that causes one's face to appear red and blotchy.
Magnesium helps to balance your skin and combat skin allergies!
Besides boosting hydration, it's also unscented and doubles as an excellent toner suitable for all skin types which helps to balance your pH, soothe open pores and protect your 'acid mantle' (the protective outer layer of your skin).
Berry Rich Face + Eye Cream:
The Berry Rich Face + Eye Cream is a product I generally only use at night. It is as rich as it's name leads on! With the changing of the seasons my skin tends to get a little freaky and dried out. This cream has done a good job keeping my skin moisturized. Happy moisturized skin is always easier to apply makeup to! Thus, I give this face cream a thumbs up!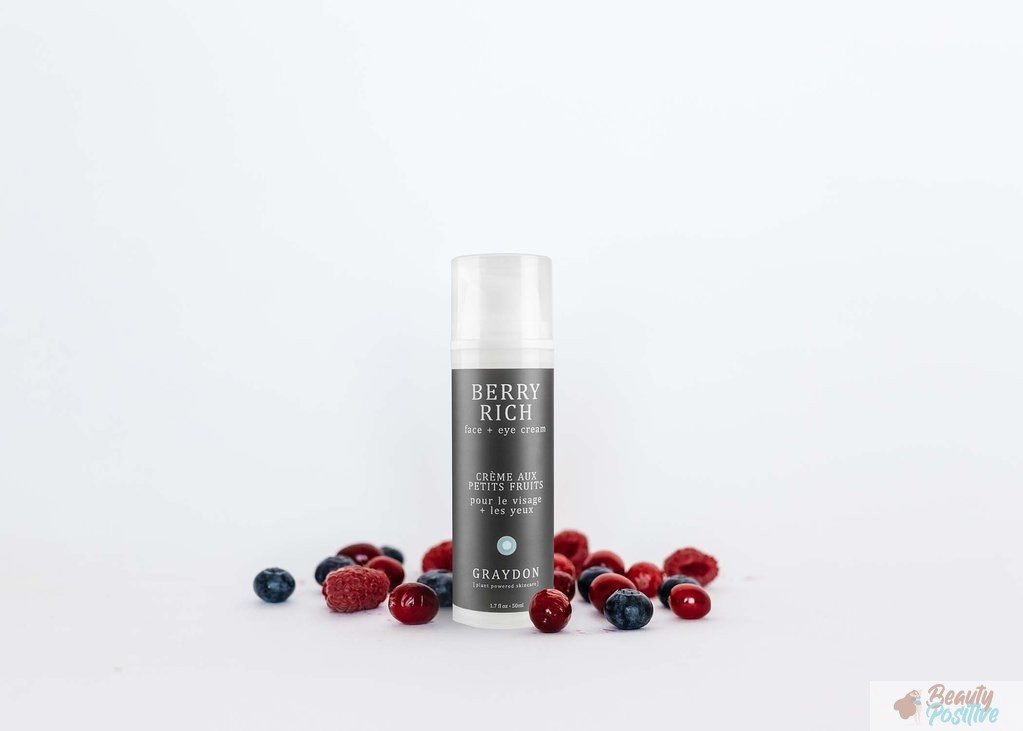 From Graydon
As the name suggests, this antioxidant moisturizer is rich in texture and loaded with the goodness of Canadian grown berry seed oils.
This non-irritating and subtly scented cream is like a genie in a bottle for hungry dry skin. Chock full of vitamins A & E, omega fatty acids 3 & 6 and super powered ellagic acid (a natural phenol antioxidant), Berry Rich is a beautiful choice for a variety of skin types, especially dry and sensitive skin. Its rich and gentle formula also makes it a great antioxidant eye cream! Or use it as a night cream, you'll love how it feels on your face after you complete your nightly bed time routine.

Recently we have updated the formula with probiotic extract and natural strawberry water essence (not oil) that gives you extra benefits and a beautiful light aroma. Probiotic extract works on the skin's lipids by dismantling them, which allow the dead cells to release from the skin's outer surface, thus increasing the turnover rate of cells and lowers the outer skin's thickness. Also resulting in facial skin that is more efficient at absorbing moisture which is often challenging for those with dry skin, especially in cold, dry weather. New research shows that topical probiotics also assist in the treatment of atopic eczema and many hyper-proliferative skin conditions! And lastly natural strawberry water, besides the fact it smells incredible it's a plentiful source of vitamin C and folic acid and anti-oxidant rich ellagic acid.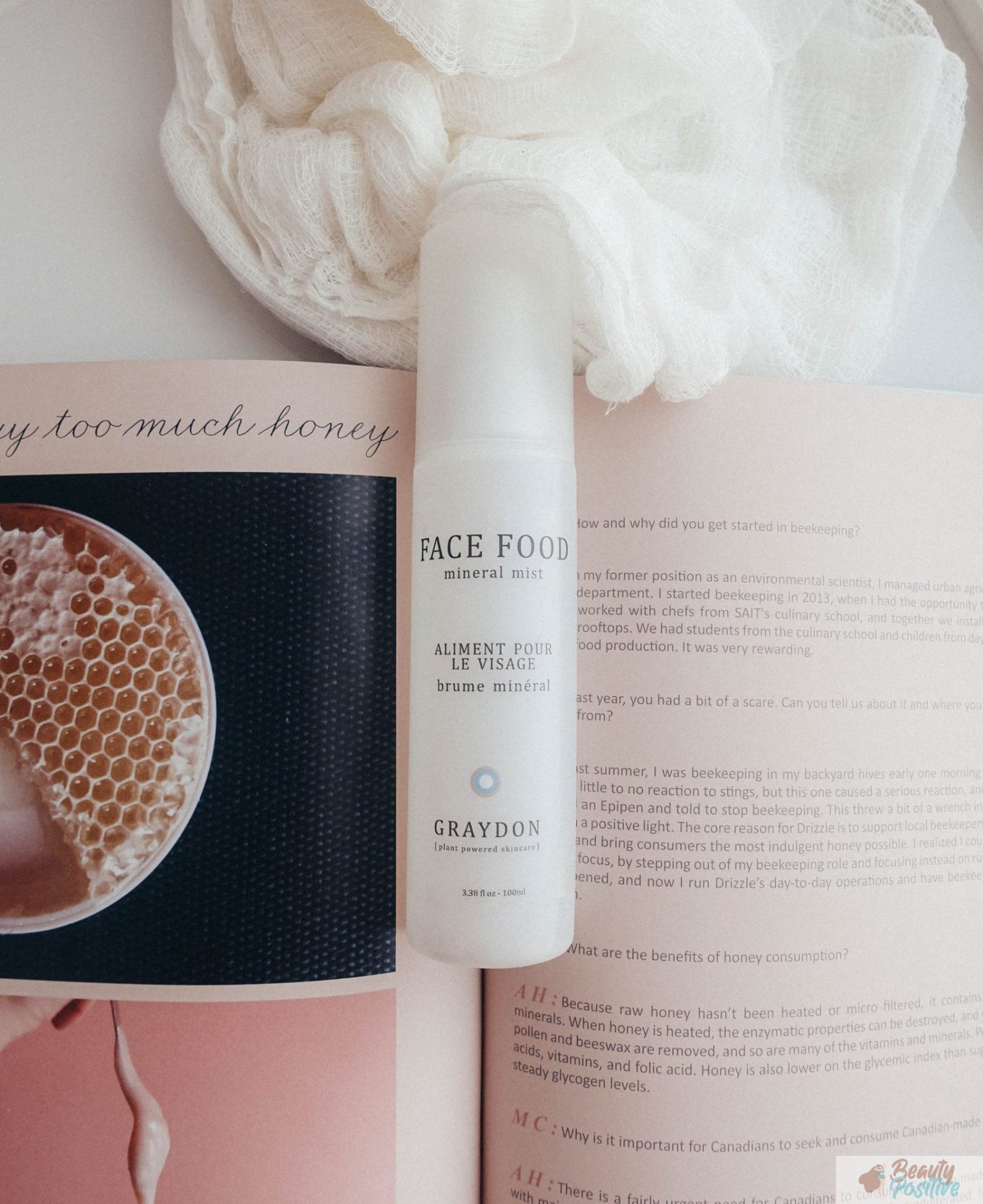 To conclude, I really have enjoyed my week of scrubbing off the day with Graydon Skincare! I think my favorites have been the Aloe Milk Cleanser and the Face Food Mineral Mist. I would totally recommend you giving this brand a try especially because of their conscious beauty practices!
SaveSave
SaveSave
SaveSave