The Mexican actress is beautiful both in pictures on social networks and in vacation photos taken by paparazzi. Salma Hayek is 55 years old but she looks much younger than her years. This is evidenced by her nude photos that have leaked to the Internet. Really she is one of those women who ages like a bottle of wine that seems to get better with time.
Salma Hayek having a rest on a yacht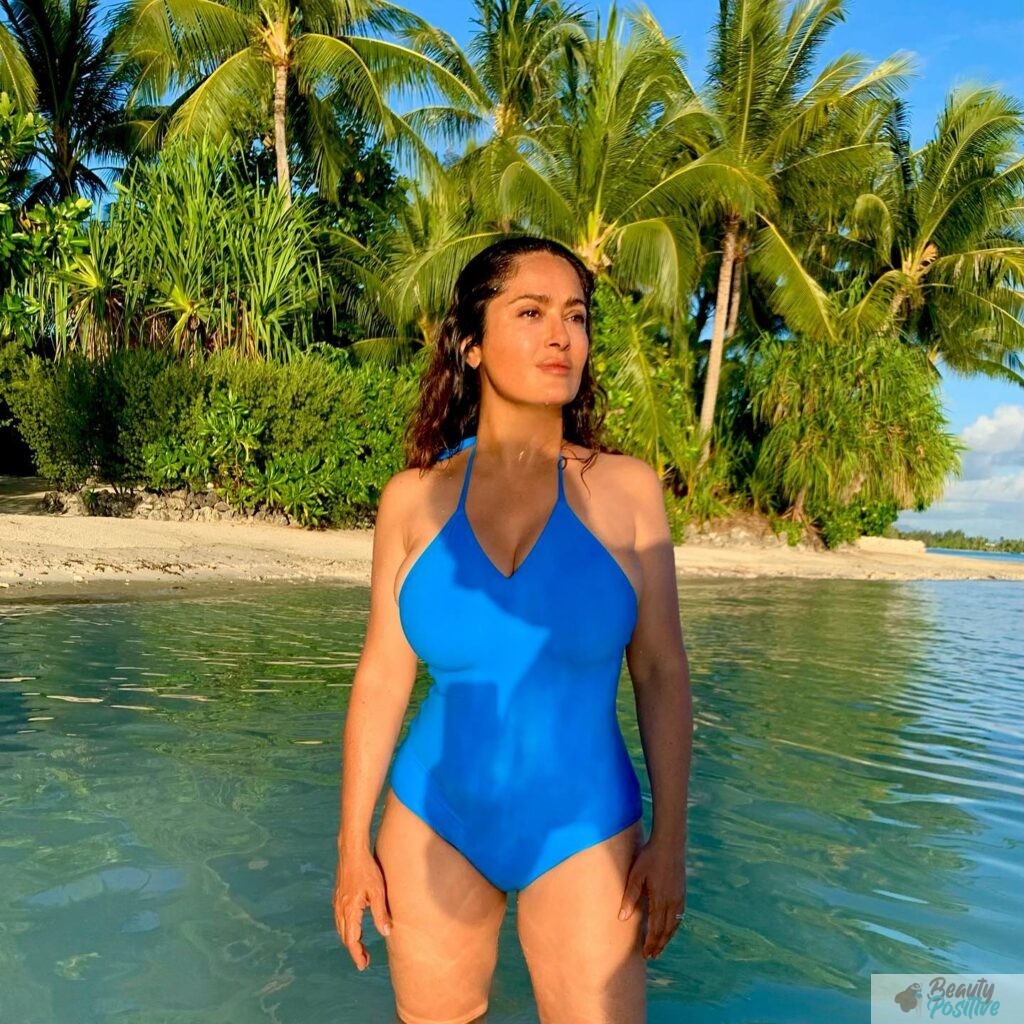 Salma Hayek was born in the Mexican city of Coatzacoalcos that is located next to the river of the same name, which flows into the Gulf of Mexico. The actress grew up on the coast so she likes to have a vacation at sea or at least by the pool for a long time. Favorite vacation spots of Salma and her husband Francois-Henri Pinault are mainly the islands of St. Barth and Hawaii, where the couple go on a yacht or swim on boats.
Посмотреть эту публикацию в Instagram
The actress doesn't hesitate to sunbathe on board in a skimpy bathing suit, which is delighted not only by her husband, but also by her devoted army of fans. Thanks to the paparazzi pictures, we can see her toned body in every detail. Despite the fact that the actress has repeatedly stated that she doesn't like to do sports, her body suggests otherwise.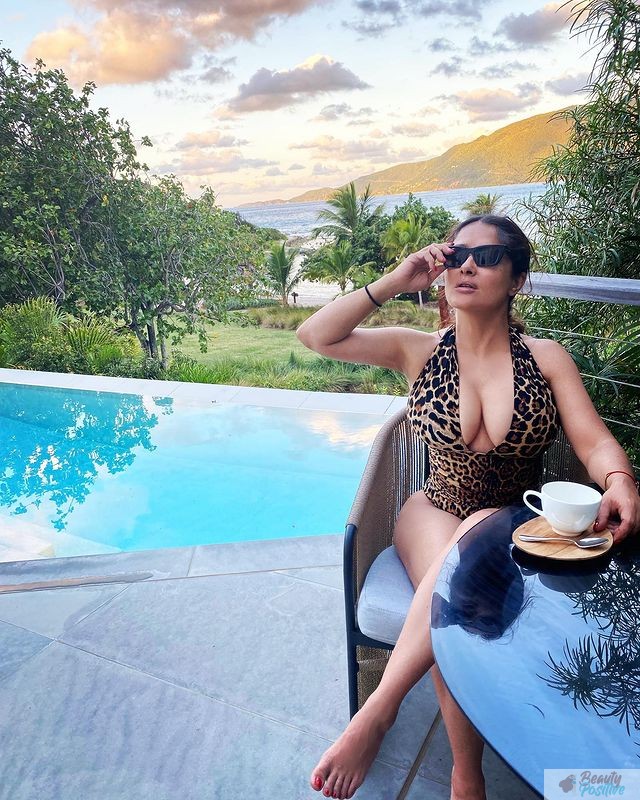 In some interviews, the celebrity said that she tries to combine ordinary activities with physical activity. For example, she tenses her muscles when she brushes her teeth or climbs stairs backwards. Maybe this is the secret of her fit body?
Beauty recipes rubric
Previously we wrote about beauty recipes by Sandra Bullock and Margot Robbie, and now we pass the baton to Salma Hayek. It turns out that Hayek loves yoga and Pilates, and when she has free time and good mood, he trains with pleasure. In her social networks she shows how she trains on a treadmill and even does a handstand.
Salma wanted to try the diet several times and limit herself in the use of certain foods, but in the end she realized that it was better to be happy than worried because of the extra piece eaten.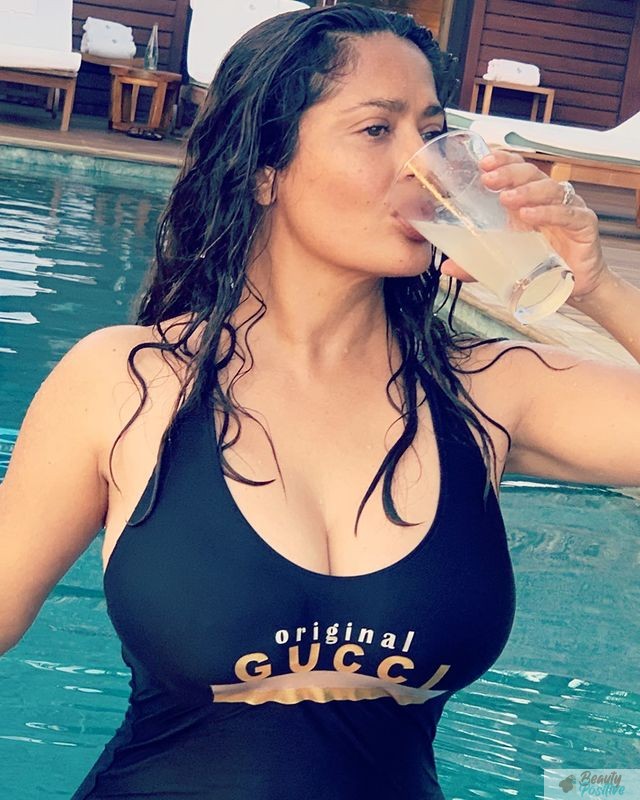 But there is one important dish on her menu – this is bone broth, which she advises to cook evetyone who cares about health and youth. Bone broth is healthy for skin because stimulate collagen production. In general, the actress supports everything natural. For example she doesn't accept Botox unlike other actresses for example Demi Moore, uses only a moisturizer and washes herself with plain water, believing that excessive cleansing can make harm to her skin.
What about Salma's photo leak?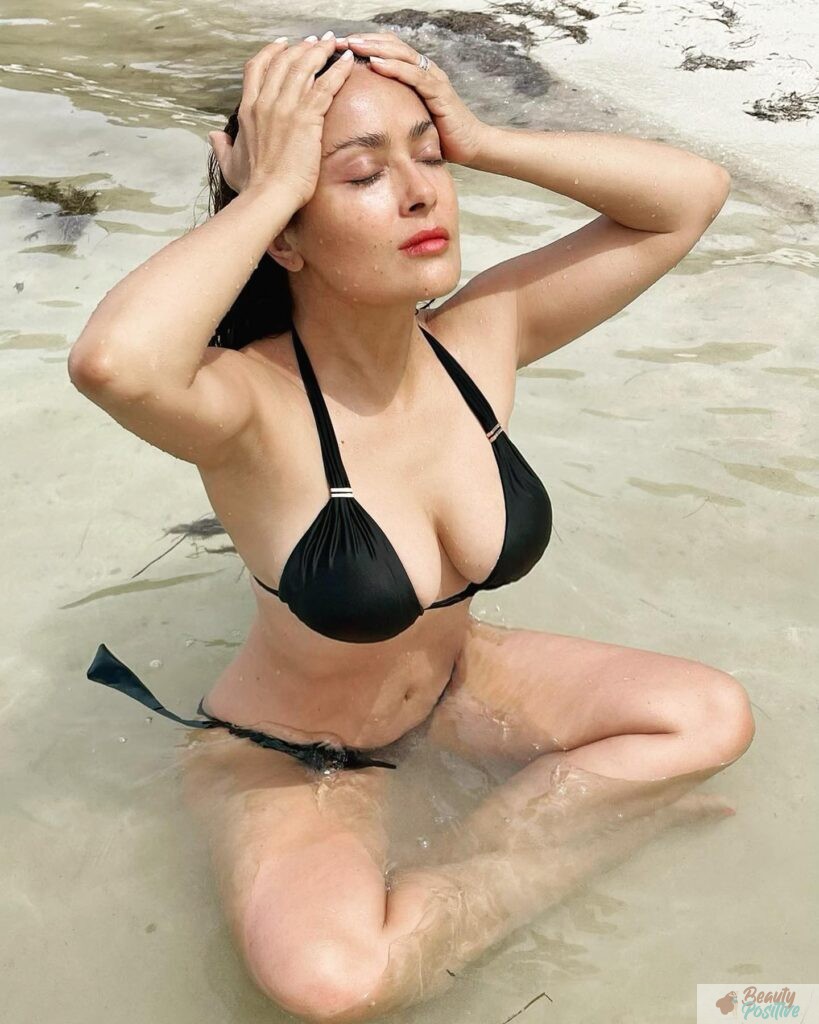 A large number of naked photos of Salma Hayek from the time of From Dusk Till Dawn roam the Internet. On them, the actress is completely naked, and on some of them she is not even alone. But today the actress does not pay much intention to this.
Today Salma Hayek is still one of the hottest actresses of our time. She looks great in a swimsuit, just like she did when she starred in Bandidas. She looks great in a swimsuit, just like she did when she starred in Bandidas. By the way, she posts candid photos on Instagram, where she has more than 20 million followers.